My husband and I have been traveling to Italy for the last six years, and on 3 of the 5 trips, we ventured out to the Tuscany region. We typically go in early fall, and Tuscany is quite charming then. It's not as hot as in the summer months, and it's also less crowded. Some prices also start decreasing, making October and November an ideal time to visit Tuscany. We are also big wine lovers, so it's an excellent place to stay.
Let's check out these top Tuscan cities to visit.
However, we're not big into booking a bunch of private tours. It's just not our thing. We prefer to get lost or have more freedom to explore and do our own thing. This is a trend being called slow travel, and yes that would describe it perfectly. Plus, we usually drive to these cities, and you can learn more about driving in Italy in this blog post. So, if you also love some stress-free travel tips while visiting Tuscany, here we go.
Florence – Traveling to Florence from Rome
Florence is a lovely, charming town. It is quaint yet full, chic yet almost rustic. It is also a great city to be your base while exploring Tuscany, because of the variety of accommodations and because of the train and bus station. You can't visit Tuscany without visiting Florence! So, decide how you will get there. The two main options we have personally used are renting a car and driving, or taking the fast train.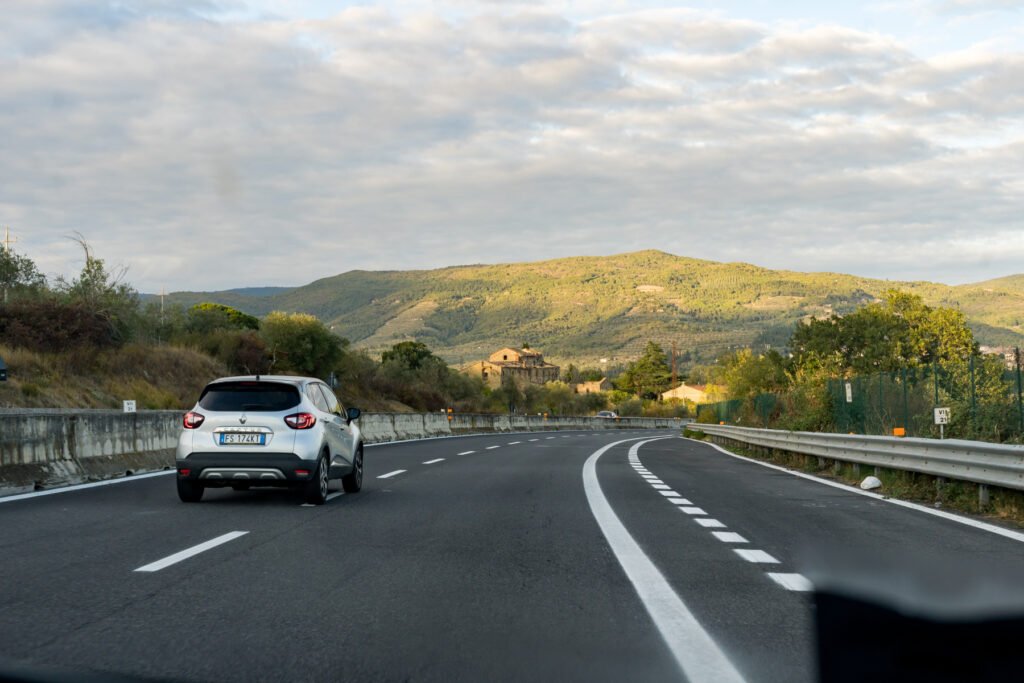 If you are scared to drive in Italy, I recommend taking the fast train and booking day tours to explore Tuscany. You can find many great day tours on websites like Airbnb Experiences and on Viator.com. You will need to analyze your budget to see how many of these paid trips you will be able to do.
If you would like to drive in Italy, then get the scoop by reading the 411 in my Driving in Italy blog post. Driving in Florence is stressful, as it has such narrow streets, and there are several no-driving zones. They do have a lot of garage options, and parking there is an average of €30 a day.
I strongly recommend you contact the hotel or Airbnb host to know the exact rules for driving near where you're staying, as well as if you can park on the street or if you have to use a parking garage.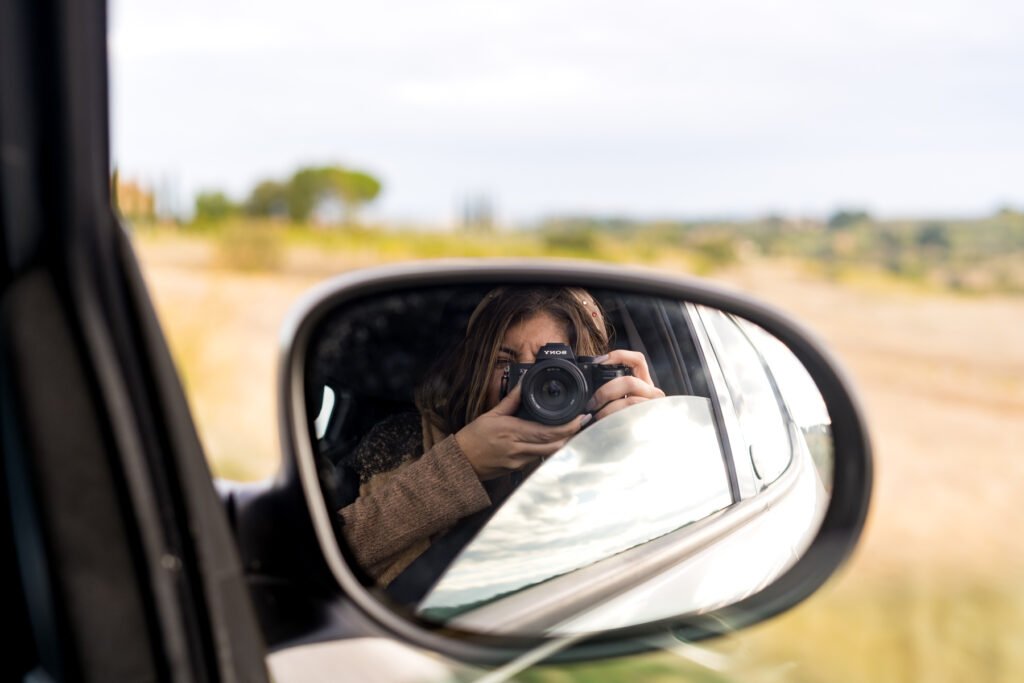 Why you have to visit Florence, Italy
There are several free things to do in Florence, and things you don't need to join a tour group for. You can explore the city on your own and visit places like Piazza Michelango for a beautiful and memorable sunset. You can walk around and visit several stores and restaurants. Florence is so charming, it exudes art, culture, and fashion. It is sophisticated and even magical.
Two things we love to do in Florence are shopping and eating.
Our favorite shopping stores are Zara, H&M, and a new sneaker shop we found there called SOTF. Our favorite Italian restaurant is in Florence, and it's called Trattoria dall'Oste. Check out this food experience below.
San Gimignano – Beautiful Tuscan City
San Gimignano is an Italian hill town in Tuscany, southwest of Florence. Encircled by 13th-century walls, its old town centers on Piazza della Cisterna, a triangular square lined with medieval houses. It has a skyline of medieval towers, including the stone Torre Grossa. The Duomo di San Gimignano is a 12th-century church with frescoes by Ghirlandaio in its Santa Fina Chapel. (Google)
It is a cute town, medieval, small, but great for wine tasting and shopping at the market, and it also has amazing views. We went by car, as we had a car before we arrived in Florence, and we parked right outside the medieval walls. I wish we had spent more time here, but the day we visited it was raining. We drove there while on our way to Florence from Rome, and there was plenty of metered parking space outside the medieval walls.
My sister just went in April and shared some great photos.
We shopped in the markets, and I purchased a gorgeous Christmas-themed tablecloth. I also ate a yummy four-cheese fried polenta, and we had a small wine tasting at one of their wine and pasta shops. My sister recently did a Vespa tour, and they stopped in San Gimignano and purchased some beautiful linen cloths. So, this is a perfect town for buying souvenirs for loved ones back at home. It is so scenic that you feel like you're on a movie set.
As per To-Tuscany.com
Take a short walk along the city walls to la Rocca, the 14th-century fortress, before leaving town. This semi-restored fortress enjoys views over terraced gardens and olive groves winding down to the Vernaccia vineyards. The fortress is home to an enoteca, a wine-tasting experience, which traces the history of Vernaccia, the town's most famous wine.
You can even book a Vernaccia master class through the tourist office. If staying for longer, escape the crowds on a rural walk along stretches of the Via Francigena pilgrimage route outside San Gimignano. This is best booked through the tourist office. 
Chianciano Terme
We stayed in this small town on a whim. It is a municipality in the province of Siena. I found a great blog post about a girl who shared her stay at Hotel Lory and how you could visit the local hot spring, Terme di Chianciano.
When we arrived, we were greeted by a friendly old man who barely spoke English. The hotel seemed empty, and we went up to the 4th floor to see our room. To our surprise, this was the cheapest hotel we've ever stayed at in Italy, and it has movie-like window views of Tuscany.
The room was spacious, the hotel had a spa, and breakfast was included. We checked in, and I began a search for a local place to see the sunset. I really wanted to go on a free wine tour, but Max was exhausted, so we ended up going to a bar next to the hotel during aperitivo time.
We bought a 10-euro bottle of wine, which was my favorite Italian wine of all time. I attacked the snacks as usual, and we overheard the locals speaking Italian. Life felt simple, and it felt great. 
Piscine Terme di Chianciano
The next day we ventured out for our relaxing day to Piscine Terme di Chianciano. As can be seen on this map, The Terme has different locations, spa services, and a thermal pool.
We kept things simple and opted for the day pass at the thermal pool. Once again, Max and I were not fully prepared for this adventure. We didn't take any towels, and we each had to purchase a swim cap and flip-flops there. The swim caps were mandatory as an effort to protect the natural spring water that fuels the relaxing pools.
The ticket cost 17 euros each, and it was definitely worth it. They did have a cafe bar inside with food, snacks, and drinks for purchase. There were pools both inside and outside. Check out this video for a feel of what our day was like.

Overall, this is such a lovely small town to visit, and I wish we had had more time to explore.
Montepulciano
This town is a wine lovers' paradise and the perfect romantic town in Tuscany. It is a hilly town consisting of alleyways filled with charm. There are authentic restaurants and cafes with Tuscany views, as well as lots of wine tasting. We had one of the best meals at a restaurant called E Lucevan le Stelle – Wine Bar Bistro. At first, we had a wine bottle out on their balcony, which faced a parking lot, but there was a breathtaking sunset view just past the lot. We then went inside the cave-like restaurant, and my husband ordered this wild boar ragu, and I had the ravioli. He loved his dish so much that he ordered another one to go, and I had the best tiramisu of my life.
We had the privilege of returning to this restaurant after the pandemic, and we were so happy it hadn't closed. This time we only ate appetizers, but we told the waiter that we had been there two years prior. As we were given our check, we were also given this wine glass full of clear, water-like liquor. "On the house," he said, "as a gift for returning to our restaurant." It was grappa, and I definitely wasn't able to drink it all, but I was thankful. It is great to see local businesses thrive and keep moving forward.
I recommend you stay in Montepulciano for two nights, as there is a lot to see. Plus, you can make day trips to nearby towns like Chianciano.
If you would like more romantic things to do in Tuscany, read 7 Romantic Things to do in Tuscany
I would probably add Siena to the list as well and on my own bucket list is Orvieto.
Check out more blog posts about Italy.
Planning Trip to Florence on Your Own