My most recent trip to Spain came up at the very last minute. I was offered the privilege of volunteering for TBEX (Travel Blog Exchange) events in the Andalusia region in Southern Spain, and I had no idea what to expect as I had never visited this region. I was blown away and felt so blessed for this experience. While I was there, I visited Malaga and Marbella, and I can't wait to share more tips about those beautiful locations, but for now, let's chat about Valencia! My husband joined me in Madrid as soon as the conference finished, and we had both visited there before, so we were looking for a new city that would be less than 2.5 hours away, due to our limited timeline. We opted for Valencia, and I'm so glad we did. So here is what we did in our 2-Day Itinerary Valencia Spain trip.
Is Valencia worth visiting in Spain??
I say Valencia is more than worth visiting! From my short stay there, I would even say it is worth living there! We opted to visit this beautiful city for the following reasons:
It is less than 2 hours by Fast Train from Madrid.
It has a beach… and boy, was it hot!
It is the home of the famous paella that my husband loves.
It was completely new to us, so we had the thrill of discovery.
We liked the diversity of choices in where to stay: Historic Center of El Carmen, the Beach, City of Arts, and other areas.
It is the third-largest city in Spain.
Here are my top reasons to visit Valencia
It is super safe. We had many locals tell us how super safe it is, and the whole time we were there, we really felt that. Of course, you always want to be mindful when visiting any big city.
There is quite a diversity in dining options. I don't really eat tuna, anchovies, and some other popular Spanish dishes, so I loved that we saw Italian food, Argentinian food, Japanese-Brazilian food, and more. So if you have picky eaters in your family, this city is perfect for that.
Gorgeous buildings. The buildings are so historical and modern all at the same time. They are super well-kept. The curves of the buildings remind me of the curves of a Flamenco (the famous Spanish dance) performer dancing the day away. I can almost hear the Flamenco dancing steps as I walked through the pastel-colored buildings.
The paella on the beach exceeded my expectations. More on that to come.
Friendly people
Great shopping options
Affordable taxis & Ubers
Less humid than in Madrid
We had only 2 days to visit Valencia, so here is what we did.
Where to stay in Valencia, Spain?
We tossed back and forth on deciding if we would stay by the beach or in the historic city center. We opted for the city center because we were not sure how lively the beach areas would be at night. Secondly, I was afraid I'd want to stay at the beach and not venture out to explore enough. Overall, I think we made the right choice!
We stayed at an affordable hotel called Casual Del Cine located at Carrer del Convent de Sant Francesc, 7. This hotel has a cinema theme, and every room has a unique Hollywood theme. We ended up with the Marilyn Monroe room. The decor throughout the hotel, including elevators and lobby, was also part of the theme. It was a fantastic location. It had two coffee shops right next to it, plus a convenient bus stop, and was super close to being smack in the middle of the old historic center.
This hotel chain also had another location, Casual Valencia Vintage, which looked awesome.
Some other hotels in Valencia I recommend
Day 1 in Valencia
We arrived by train in the early morning, and while trying to order an Uber, we saw that there were only taxi options. But it really wasn't a problem because it wasn't that much money. I think we paid $12 Euros. We did have to walk a bit away from the train station as it seemed Uber would not go next to it. I could be wrong. We arrived at Casual del Cine early, and we couldn't check in early because the hotel was packed. They allowed us to leave our luggage, though, and we quickly changed into our beach day attire. We took the items we needed in our book bag and asked them for bus directions. Bus line #19 was the one they suggested, but after going to 3 different stops, a bus driver told us to take #32 which would go all up the coastline. We stepped out at Playa de la Malvarrosa, where we saw some restaurants along the beach.
Beaches in Valencia
I didn't see many options for renting beach chairs and umbrellas, so we were kind of stumped. We knew we wanted to relax, and we knew we also wanted some paella. (Remember, this was a last-minute trip, and I was kind of still looking up things as I went.) I asked for the wifi, which in Spain is pronounced "wee-fee," and I began searching for paella restaurants. I found some options at a nearby beach, and it turned out to be a much better spot for a day at the beach than the first location. We had strongly considered spending our beach day at the Marina Beach Club, but it would have cost us over $90 with a $40 credit for consumption. We feared the portions being a bit small, we didn't know if we would like the food, and the price was for hammocks and not chairs, and no shade.
I am so glad we didn't do the Beach Club because we used that money to cab over and have our first delicious paella in Valencia. We were dropped off near La Paz Restaurante, and we entered through the back and asked for availability. This was already almost 2 p.m., and they told us 20 minutes. As we headed to the other end of the restaurant, we saw the beautiful beach and a boardwalk with more restaurants and shops. Thankfully, we also saw beach umbrellas and chairs for rent! Once we left our name at La Paz, we walked over to rent those for our beach day. The cost was 7 euros per chair and umbrella, so we spent 21 euros. The rental guy explained that the rental starts at 10 a.m., and you basically have it from 10:00 a.m. to 7:00 p.m.
My husband was thrilled because our spot was right next to a little kiosk that sold cold beer and some snacks, so it became exactly what we wanted in a beach day. We left some items to save our spot and headed back to La Paz. We were quickly seated right near the open door, where we felt the wonderful breeze of the ocean, making it extra special. Our waiter was very friendly, and we ordered some Rioja wine, a shrimp appetizer, and the paella Mista for two. They had several paellas, but the one we chose also had chicken and vegetables. It was delicious, and we ate it all.
After lunch, we spent a few more hours at the beach lounging around. I also paid for a massage on the beach, which cost €10. She was just a woman passing by, and while she was doing the massage she ducked all of a sudden. Then I realized she was hiding from the police. I felt sorry for her. Just an immigrant woman trying to make a living.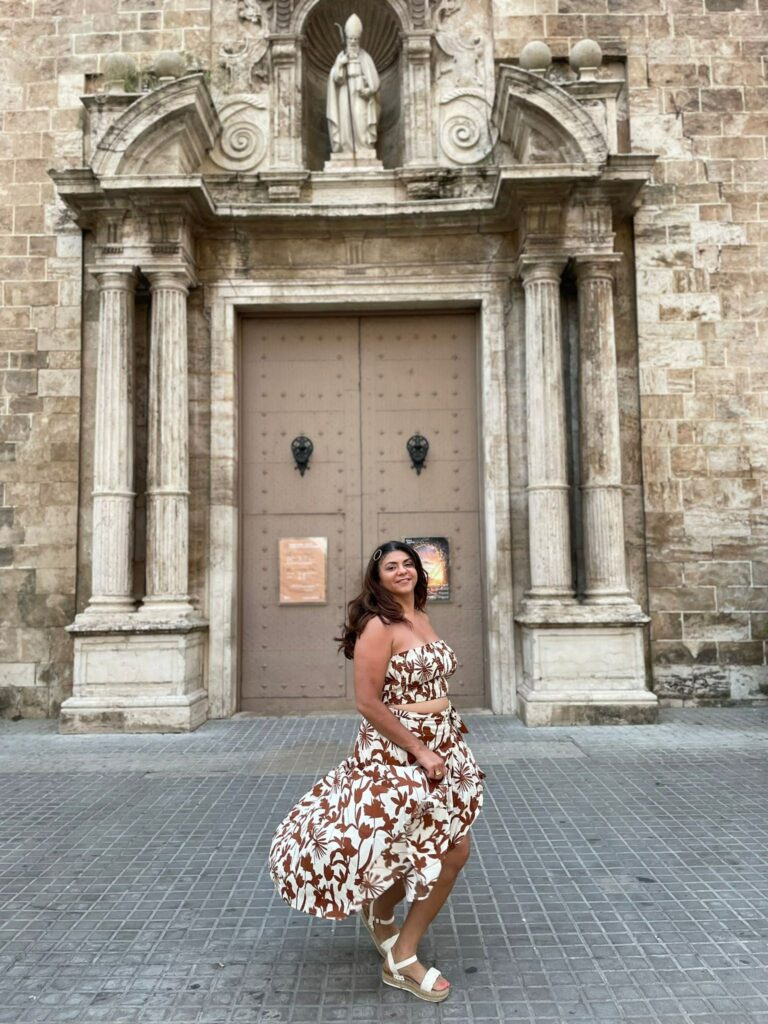 The sun in Europe sets very late, so we definitely stayed until 7 p.m. Our legs had been so tired from walking that we decided to take the taxi back. We ended up waving one down easily as they dropped someone else off. Overall, we loved the beach vibe and felt our day was perfectly spent.
Delicious Restaurants Valencia Spain
We came back to our hotel to finally check in and freshen up, then headed out for dinner. I chose a restaurant that Tripadvisor stated was one the best foods in Spain, and they weren't lying. We went to La Taverna di Noè which was actually a Brazilian-Italian restaurant. There we met the lovely Beatrice, our Brazilian waitress, and Stella, the cook, and owner.
It was a special evening, emotional even, but that is a story for another day, one I hope to tell in a bigger publication. We tried the chorizo as an appetizer, well marinated in red wine and delicious. We also had the eggplant parmesan appetizer. Max ordered the carbonara, and I ordered the ravioli. We had dessert, Limoncello (an Italian lemon liqueur), and more as we chatted more with the young waitress and the owner. We hugged the owner goodbye and we left the restaurant feeling we were meant to be there.
On our stroll back to the hotel, we passed by Kaikaya restaurant. It had a bar-like seating area outside, which was the perfect setting for a nightcap, and we were lured in by its fun name and tropical decor setting. As I looked at the menu, I saw a bunch of familiar Brazilian items, and later learned that the restaurant was a Brazilian-Japanese fusion owned by a Spaniard who loved Brazil. It was a sweet discovery that made me feel at home while on vacation, but I think you'd love it, too.
I ordered a drink called Xodo, and I can honestly say it was the best cocktail I've had in my life. The bartender, who is from Rio, creates these mixes infused with molecular science stuff. There are these infused passion fruit bubbles that are so delicious. As I looked around, I saw some cocktails with fire on top, and others served in a Budha cup. Mine had a pretty leaf inside, and I loved the purple and white colors. The waitress was also Brazilian, and she told us a bit more about the restaurant. Max ordered the caipirinha, Brazil's national cocktail, then we finally left, feeling fully content with our first night in Valencia.
It was a perfect first day, and time for bed, as day 2 would be more sightseeing in the city center.
Day 2 Valencia Itinerary
Our second day started with a delicious breakfast at Nuezcafe, which was right next door to our hotel. This coffee shop was incredible. The service was just meh, but the food and coffee made up for it. When we entered we ordered two cappuccinos and some delicious cake. Max got a Cranbury one and I got the carrot. Then as I was seated waiting for my cappuccino, I glanced over and saw these 3 girls with what looked like avocado toast. So I asked the waitress and she said it was avocado on toast with cream cheese. So I ordered that too! Boy, I am so glad that I did.
Then we began walking towards the main area of the city in search of a Tuk Tuk tour. After walking so much during the conference, my legs were on fire, and I thought a Tuk Tuk tour would be a perfect way to see the city, especially on a hot day. Well, we couldn't find one. After starting to get a little frustrated, we just began walking. I went towards some historical sites, and then realized it would be best to go to the City of Arts (a large cultural and architectural complex in Valencia), which was further away.
So, to save our legs, we hailed another cab, and off we went. We really should have eaten before we left, however, because the City of Arts is more of a residential area. However, I'm able to pass that tip on to you to fill your bellies before you head there. It was worth it, even with that small glitch, because it was absolutely stunning. I can't wait to go back. We strolled around the modern buildings, took selfies at the Valencia sign, and all the while kept our eyes open for water and a snack.
We went inside the museum and were able to get water there. Just before heading inside, a couple asked us to take a photo of them, and they mentioned that we weren't too far from the beach. Wait, did someone say beach?
So, since we were hungry, we thought, why not go back to the beach to eat paella once more? This is exactly what we did. We ended up going back to the same beach at Passeig de Neptú. We were so hungry by that time that we stopped in the first restaurant we saw. Well, I had seen this restaurant online before, called Pepita. We ordered the same paella, and after our orders were in, I moseyed to the bathroom.
As I began looking at the old photos on the wall, I realized this restaurant was owned by the same family ever since it was founded in the late 1800s. And to my surprise, old Ernest Hemingway had also eaten there. It was meant to be. We liked the paella here as well, but the service was a tad better at La Paz. The prices were about the same. After eating, we headed back to the city center to explore.
Once again, we took a taxi, which ended up being cheaper than the Tuk Tuk tour.
Are 2 days enough for Valencia?
As a couple, I say 2 full days is a good start and if you only have two days, do it! Ideally, 3 full days would have been nice. This would allow us to travel slower and do more sightseeing. I have to say that the heat didn't help. It made us extra tired.
things to do in valencia
Mercato Centrale. This market was more like a traditional market, and not as much a place to hang out and eat a meal as the Madrid one.
Shopping. I found an incredible jewelry shop called Vestopazzo. They had so many travel-themed necklaces, earrings, and bracelets.
Visit the Plaza de la Virgen which is such a cool area to sit, people watch, drink, and enjoy.
There are many historical sites to see so walking around the old city center is a great free activity. We headed out after packing and we had some tapas, the calamari actually sucked, but the chorizo dish was great. They were just in a hurry to close and service wasn't ideal. We still enjoyed our time regardless.
Before the evening ended, I wanted to go back to Kaikaya to get another sip of that yummy drink, but they didn't have it. This was totally okay because I tried a great new drink called Don't Touch my Budha. It has Reposada Tequila, Gabriela (Spiced Liquor), Lime and Passion Fruit foam with Sriracha. Powerful, fruity and spicy. Surely you will not let that Buddha leave his side. (16% Vol.) –
We also finally tried some food. We were stuffed already but could not resist. I had the Shrimp Tempura and Max had a pork dish which had Pork rib in Thai marinade and cooked at low temperature, cabbage, fennel and peanuts. I would go back to Valencia to visit this restaurant alone! So good!
Went back to the hotel at the end of the day, we scheduled a taxi for the train station because we needed to be on the first train to Madrid and catch an early flight back home. It was a risky thing to do, but we wanted more time in Valencia, and it was worth it.
how many days in valencia do you need?
I plan to go back to Valencia with my kids and I plan to stay at least 3 full days, I think 4 days would be ideal. This will give you time to explore more beaches and the historical sites in the city center.
Valencia truly blew me away, and I can't wait to be back to explore more. We visited Madrid as well so check out my tips for Unique things to do in Madrid or check out my 1 Day in Malaga blog post.