While Italy is widely praised for its history, art, and cuisine, the country's extensive drink options are often overlooked. Italian drinks, from sour before-meal aperitivos to sweet after-meal liqueurs, are as much a part of the country's history as its paintings and pasta.
If you're planning a trip to the "Bel Paese," then this post will help you plan which drinks to sample. So raise a glass and join me in this exploration.
Table of Contents
Aperol Spritz – The King of Italian Cocktails
The Aperol Spritz is the most well-known Italian aperitivo, and no trip to Italy would be complete without at least one. This cocktail, which combines Aperol, Prosecco, and soda water, is the ideal way to kick off a night on the town thanks to its bittersweet flavor profile. It's served in cafes and bars all over Italy because of its bright orange color and light, refreshing flavor.
The origins of the Aperol Spritz can be traced back to the 1950s in the Veneto area, where it was first created. It has since become a popular tourist attraction and a symbol of Italian hospitality. In Venice, where the Aperol Spritz was first created, you can sample some of the country's finest examples of the drink.
Limoncello – A Sweet Treat from the Amalfi Coast
For those with a penchant for sweets, we recommend Limoncello, a liqueur prepared by fermenting lemon zest with sugar and alcohol. Popular on the Amalfi Coast, this bright yellow beverage is a staple throughout all of southern Italy.This vibrant yellow drink is a staple in southern Italy and is most commonly associated with the Amalfi Coast.
Locals have long been making their own batches of Limoncello at home, using lemons from their own gardens, and the drink has a rich history in the area. You can find bottled versions in stores and restaurants across Italy, but for the real deal, you should travel to the Amalfi Coast and try some of the regional specialties.Today, you can find bottled versions in bars and restaurants all over Italy, but for the best experience, head to the Amalfi Coast and sample some of the local varieties.
Read this awesome blog article for the best Limoncello Brands You Must Try.
Chianti Wine – A Toast to Tuscany
Chianti is a staple of Tuscan cuisine and one of Italy's most well-known wines. The Chianti region of Tuscany is home to the grapes used to produce this full-bodied red wine, which is renowned for its bold flavor and pronounced tannins. This full-bodied red wine is made from a blend of grapes grown in the Chianti region of Tuscany and is known for its robust flavor and strong tannins.
Chianti has been produced in the region for centuries and has a long and storied history. It was once considered a "table wine" and was consumed on a daily basis, but it is now widely recognized as one of Italy's top wines. If you enjoy wine, a trip to the Chianti region is a must, where you can tour vineyards, sample local vintages, and experience the region's distinct terroir. If you're a wine lover, visiting the Chianti region is a must! You can tour vineyards, sample the local vintages, and experience the unique terroir of the area.
Negroni Classic
The Negroni is a classic Italian cocktail that originated in Florence, Italy, in the early twentieth century. It's a popular aperitif that's usually served before dinner to whet your appetite. The cocktail combines gin, sweet vermouth, and Campari, a bright red, bitter liqueur. The ingredients are combined and strained into a glass over a large ice cube after being stirred with ice. The Negroni is frequently garnished with an orange peel or slice, which adds a citrusy aroma and flavor to the cocktail. The bitter Campari, sweet vermouth, and botanical gin combine to create a complex and balanced flavor profile that has made the Negroni a beloved cocktail around the world.
The combination of the bitter Campari, sweet vermouth, and botanical gin creates a complex and balanced flavor profile that has made the Negroni a beloved cocktail around the world.
Aperitivo – Happy Hour in Italy
Aperitivo is a popular Italian tradition in which friends gather to enjoy a pre-dinner drink and snack. Aperitivo originated in northern Italy, but has since spread throughout the country and has become a staple of Italian culture.
Aperitivo hour is traditionally held between 6 and 8 p.m., with locals crowding into bars and cafes for a pre-dinner drink and bite to eat. While the Aperitivo hour is a great time to relax and catch up with friends, it's also a great time to enjoy some of Italy's most popular drinks, such as Aperol Spritz, Negroni, and Limoncello.
Aperitivo culture varies from region to region in Italy. Aperitivo, for example, is a more formal affair in Venice that frequently includes a sit-down meal at a restaurant.
In Milan, aperitivo is a more relaxed affair, with locals congregating at bars for a quick drink and snack before dinner.
Regardless of regional differences, aperitivo is a beloved tradition in Italy and an important part of the country's food and drink culture.
Snacks During Aperitivo
During Aperitivo, it's common to see a spread of small, bite-sized snacks or "stuzzichini" served alongside drinks. These snacks are intended to whet one's appetite and prepare the palate for dinner. Some of the most popular foods served during Aperitivo include: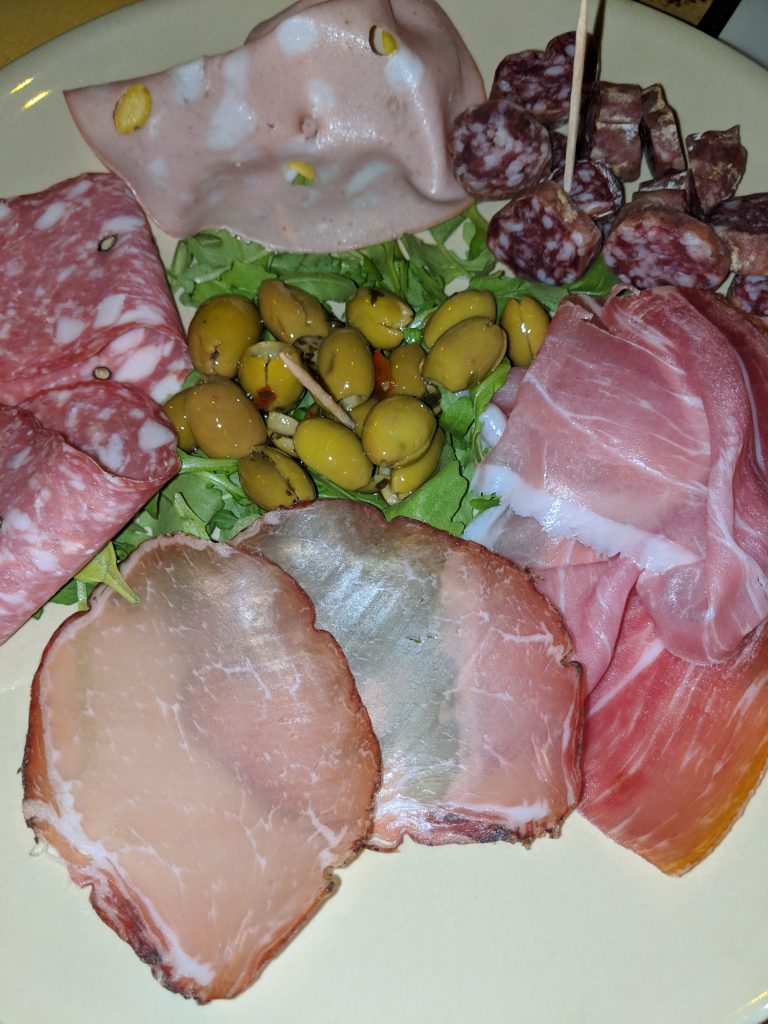 Chips and dips, such as bruschetta or crostini, topped with various spreads and toppings
Pickled vegetables such as olives.
Small plates of cheese and cured meats, such as prosciutto or salami.
Fried or baked goods include arancini (rice balls), crocchette (potato croquettes), and suppli (fried rice balls).
Small-portion pasta dishes like pasta salad or spaghetti carbonara.
During Aperitivo, the spread of stuzzichini can vary depending on the region and local cuisine, but the goal is always the same: to provide a variety of light and flavorful snacks to enjoy alongside a pre-dinner drink.
Wine is especially important to Italians, and the country is home to some of the world's most renowned wine regions, including Tuscany, Piedmont, and Veneto. Wine is important in Italian culture and is deeply ingrained in the country's food and drink traditions, whether consumed with a meal or as an after-dinner drink. Wine plays a crucial role in Italian culture and is deeply intertwined with the country's food and drink traditions, whether enjoyed with a meal or as an after-dinner drink.
Where to Savour Italian Drinks
Now that you know what drinks to try, let's talk about where you can drink them.
Let's talk about the best locations to enjoy these drinks now that you are aware of what to try. Italy is full of wonderful places to sip and savor the regional beverages, from historic bars to picturesque cafes.
Aperitivo Hour in Milan – Since the Aperol Spritz was invented in Milan, it's the ideal location to partake in one (or two). One of the city's oldest bars, Bar Basso, serves up a traditional Aperol Spritz with a side of Milanese style.

Amalfi Coast Limoncello Tasting – For the best Limoncello encounter, visit the sleepy seaside community of Sorrento on the Amalfi Coast. You can find authentic limoncello producers here who only use the most recent lemons and a long-forgotten family recipe.
Wine tasting in Tuscany – To truly experience Chianti, travel to the region's rolling hills and tour some of its best vineyards. You can sample some of the best Chianti vintages and discover how wine is produced at places like the historic Castello di Volpaia and the family-run Fattoria Le Fonti.

Rome has a thriving café scene, and there is no better place to sip an espresso or cappuccino than at one of the city's elegant old cafes. Head to Tazza d'Oro, a Roman institution, for a coffee made with locally-sourced beans and served with a side of old-world charm.
Our favorite Bars in Rome
Our favorite neighborhoods to go out drinking in Rome are Monti and Trastavere. You can't go wrong with these. Just get lost and you will find a great bar! Here are some of our favorite bars in Rome.
Black Market: In Rome's Monti neighborhood, there is a hip bar called Black Market. It features a huge variety of craft beer, cocktails, and wine in a relaxed environment. The bar is well-known for its live music events and underground atmosphere.
Ai Tre Scalini: ( our favorite bar in Rome). In the center of Monti, there is a historic wine bar called Ai Tre Scalini. It is renowned for its extensive wine list, as well as its choice of craft beers and cocktails. The bar has a cozy and rustic atmosphere, with wooden tables and wine barrels lining the walls. Locals and visitors alike frequent this popular location to unwind with a drink and some small plates in a classic Roman setting. They always have great specials for food.
Bar Monti: Bar Monti is a popular bar located in the Testaccio neighborhood of Rome. Along with a delectable variety of small plates and snacks, it offers a wide selection of wine, beer, and cocktails. There is outdoor seating available in the warmer months, and the bar has a laid-back and welcoming atmosphere. Here, we had some delicious passionfruit drinks.
Another well-known bar in Rome's Monti neighborhood is Finnegan Irish Pub. The bar serves a variety of Irish and foreign beers in addition to pub fare and snacks. There is frequently live music and sporting events, and the atmosphere is warm and welcoming. The Finnegan Irish Pub is a great place to watch a game and have a casual night out with friends. Its central location in Monti also makes it easily accessible from many parts of the city. What we liked is how much outdoor seating there is and right on the steps down to Monti. You can order drinks from the small window. We had a great time here.
Prosciutteria Cantina dei Papi – Trastevere. This is technically not a bar, but it has the best charcuterie boards in Rome! You can order drinks at the counter, as they are not allowed to serve you drinks. We typically get prosecco when we go here.
Italian Beers
Italy has some delicious beers.
Italian craft breweries produce a wide range of styles of beer, and the country has a long history of producing beer. Here are some Italian beers to try when visiting Italy:
Peroni Nastro Azzurro: One of Italy's most well-known beer brands, Peroni Nastro Azzurro is a light, crisp lager.
Moretti La Rossa: Brewed in Italy since 1859, Moretti La Rossa is a rich, malty double bock beer.
Baladin Isaac is a Belgian-style witbier that has been brewed with coriander and orange peel, giving it a light, citrusy flavor.
Birra del Borgo Re Ale: Brewing with a combination of Italian and American hops, Birra del Borgo Re Ale has a fruity, hopped flavor. It is an American-style IPA.
Birrificio Italiano Tipopils is a traditional pilsner beer with a light, crisp flavor that is brewed with Italian-grown Saaz hops.
Menabrea: Produced since 1846, Menabrea is a classic Italian beer. It is a clean, crisp lager that is light and energizing.
Birra Amarcord La Tabachera: Birra Amarcord La Tabachera is a robust, smoky porter beer that has a distinctive flavor due to the use of tobacco leaves during the brewing process.
You can sample a wide variety of mouthwatering Italian beers while traveling there; these are just a few examples.
Enjoying a nice cold Italian Beer in Rome
What to drink in Italy in The Summer
In Italy, summer is a season for unwinding, soaking up the sun, and sipping cool beverages. Here are a few of Italy's most popular summer beverages:
Aperol Spritz: The well-known orange cocktail is a summertime favorite in Italy, where both locals and visitors partake.
Prosecco: This sparkling wine is the ideal summer beverage because it is crisp and light.
Limoncello is a lemon-based liqueur that is popular in Italy as an after-dinner beverage and is frequently consumed as a digestive.
Campari is a well-liked bitter liqueur that is frequently consumed as an aperitif and as an ingredient in cocktails.
Franciacorta: Though it has a distinctive Italian twist, this sparkling wine from the Lombardy region is comparable to Champagne.
The Italian summertime beverage of choice is rosé wine, which is frequently paired with seafood or consumed as a cooling beverage in the afternoon.
These drinks are the essence of summer in Italy, and both Italians and tourists love them. Whether you're at a beachside bar or a cozy cafe, be sure to try one of these top summer drinks and experience a taste of Italy in the sun.
Winter Drinks in Italy
In Italy, winter is a season for warming beverages. During the colder months, try one of these well-known Italian beverages:
Mulled wine is a popular winter beverage that is frequently offered at outdoor markets. It is a warm, spicy wine.
Vin Brulé: A mainstay of Italian winter celebrations, this hot mulled wine is flavored with spices, sugar, and citrus.
Italian hot chocolate is renowned for its decadent, velvety texture and potent flavor of chocolate.
Caffè Corretto: This coffee with a shot of liquor is a popular pick-me-up during the colder months.
Amaro: This bitter liqueur is a popular after-dinner drink in Italy and is often enjoyed to aid digestion.
Grappa: This strong, grape-based spirit is often enjoyed as a digestif after a meal.
The Drinking Age in Italy
It is now illegal for anyone under the age of 16 to buy or sell beer. Bars typically don't serve minors unless an adult is present. In Italy, bars are places where people go to socialize rather than drink excessively, so they have a lot to offer everyone—including kids.
Toasting in Italy
There is never a perfect time to make a toast, whether your event is a birthday party, wedding, reunion, or simple Sunday brunch. One of your most popular official chants is salute, which is short for "salutation," which means "health". There is also a number of versions of the term such as "all tua salute – salute for us – salute for health – salute". One sentiment, known as Cin (also spelled chin chin), derives from the Chin'g, a Chinese expression of gratitude used in Victoria. In Italy, this toast is preferred over glasses.
Be safe while drinking in Italy, don't accept cocktails from strangers, guard your glasses and be mindful that getting drunk in a foreign country can be dangerous. Learn more about safety in Is Italy safe article.
Buy me a drink and I will tell you about our crazy night in Trastavere.