Porto is a beautiful port city located in the North of Portugal. I had been there once before in the year 2000 and was excited to head back and see my cousin. We had less than two days to spend in Porto, including having dinner with our cousin, so here is our 1 Day Porto Itinerary.
How to get to Porto?
Flight to airport: San Francisco San Carlos Airport. I use Skyscanner to look for cheapest flights. Using train: this is between Campanha (the main railway station in east Porto) and Só Bento (a gorgeous metro station). Book the train to Porto using Omio. Bus: the cheapest bus system in Europe is the Flixbus. From Portugal, the ticket price starts at 5€ per person. Explore FlixBuss in Port. From Porto Airport in town, take metros for € 2.25 or taxis for €10.
We took the train from Lisbon then we ended up using a taxi right outside the train station. The taxi driver was affordable and he was very nice.
How many days do you need in Porto?
For your first trip to Porto, 3 days are ideal. Because Porto is relatively small, you can pack all of Porto's most important attractions in one day. But it's a bit of a rush. To enjoy the laid-back ambiance of the historical city, you will need at least four days of exploring. Take an excursion for a day in the Douro Valley. We only had two days which ended more like being 1.5 days.
Our Hotel in Porto Portugal
We arrived by train and took a cab outside the station. The driver was super friendly and the hotel wasn't far, but there was weird traffic and some one-way streets. We arrived at the hotel to find a cute bicycle in the reception area, as well as friendly front desk receptionists. I noticed that their badge stated which country they were from, and it was cool to see so many internationals settling in Porto.
Our room was super spacious, and the hotel also had a cafe bar, dining area, and some cool views. Best of all, it was very centrally located, giving us access to attractions and great food places.
We had breakfast close to the hotel at a local small bakery, and later a delicious ham and cheese sandwich and a yummy cappuccino. The day was gloomy, so we hoped to get some sun views later. Once we finished with breakfast, we began walking toward the port.
Visit the Douro River and Port Area
While we walked to the port area, we stopped for some pictures and did some light sightseeing. We saw this cool building that reminded us of the food markets we love to visit but turned out to be a club that was closed due to Covid. It looked huge, and I can imagine the fun time youthful folks have had in there.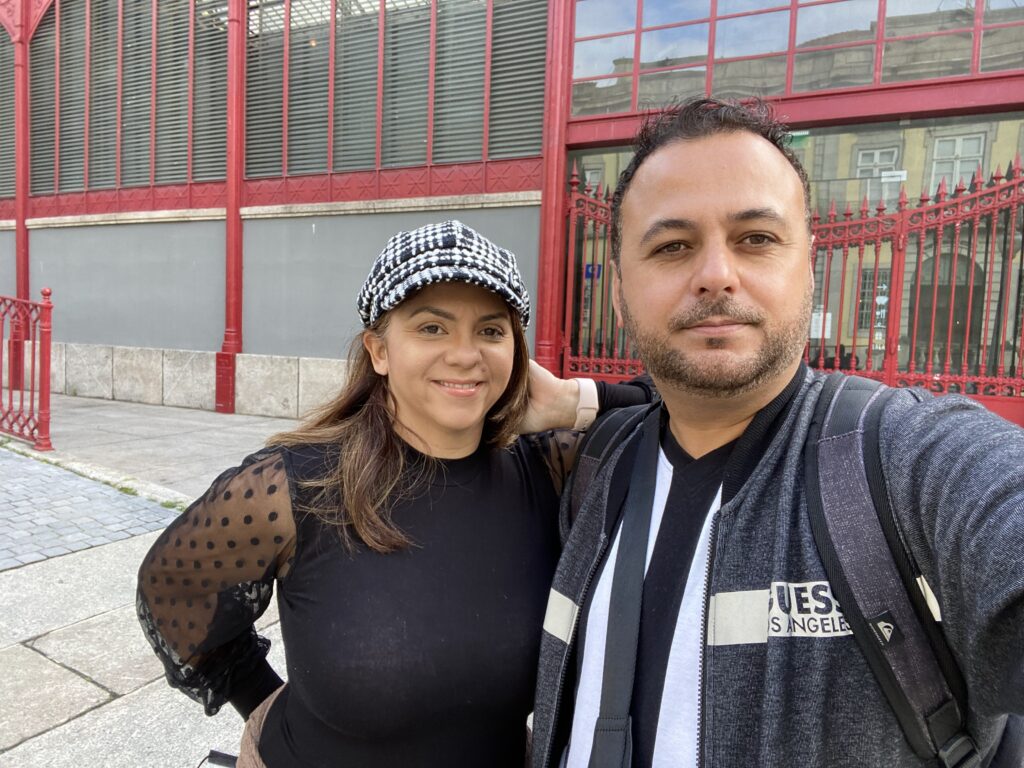 Shopping in Porto
We arrived down by the water, and the day was still gloomy, but I was just glad to be there. I began searching for where to eat lunch and found a few suggestions. But then a local shop caught my eye, so we browsed the local vendors, and one shop, in particular, had great souvenirs and local products like Porto's famous hand creams and soaps. I didn't know, but Porto is home to Claus Porto, a very traditional luxury soap company established in 1887.
"The Claus Porto product line encompasses an array of soap bars, body wash, liquid soaps, bath salts, guest soaps and aromatic candles. The soaps are creamy in texture and hand wrapped in traditional paper. Several boxed collections are assembled for gift-giving in mind. Choose from a beautiful bouquet of scents."
We loved the handmade artwork from this store, and I purchased a hand cream, cork coasters, and a little bread basket handkerchief.
At this shop, we also asked for local recommendations for food, and the store clerk told us to be careful of food traps. We wrote down two recommendations which I can't remember, but we did have a great food experience at the food market across the Douro River.
Cross the Dom Luis Bridge
Porto's bridge is iconic and very easy to get across. This is a great spot for photos and a lovely stroll. Once you get to the other side, you will find more street vendors selling handmade jewelry, art, and souvenirs. You will also find some food and drink trucks, plus a cool ride.
Visit Port Wine Houses
We strolled some more, took pictures, and started venturing out to find port houses. Many port houses were not as welcoming as expected, and I thought we would find some free port wine tastings. It was nice to see some traditional port wine pours like Sandeman that I had seen when I visited Porto in 2000 when it was even cheaper than it was before the European Union.
We finally entered Quevedo Port Wine House. The tasting is located on the second floor, and the first floor has some life-sized wine barrels you can take photos in. We ventured upstairs and sat down and ordered a rosé and a red wine. We actually did not do a port wine tasting. This special reserve they had was so special that we ordered a second glass and purchased a bottle. You see, they don't usually sell the bottle there, but some big shot from corporate had been in town, and they had a few bottles left. We felt so lucky, and our waiter was so well-versed in wine and the story behind this Douro Valley winery. I hope to one day be able to visit the winery.
P.S. He was from Canada, and most of the workers were also international.
Where to Eat in Porto
Eat Cod Cake
We had had the famous cod cake at A Casa do Bacalhau in Lisbon, but when we saw this one in Porto, we had to enter. Check out this video, which made me think of movies like Willy Wonka. I felt like I was in a movie, and my husband ordered the cod cake with beer. You can also watch the ladies make the cod cakes.
Porto Food Market
We stumbled upon the food market, which was one of our favorite dishes in Portugal! Watch this TikTok so you can see the shrimp dishes and incredibly cheap beer we had. Overall, I wish we would have stayed there a little longer and really savored the food. I had oysters, and then a garlic shrimp appetizer. My husband had the rice with shrimp. It was incredibly fresh.
Once we ate lunch, we chilled and people-watched. We basically just rested, and of course, took some more photos. We were super full by this time, so the rest was good. We headed back to the hotel to freshen up and relax before dinner.
What to Eat in Porto
The day before, we had arrived in Porto in the afternoon, and we were hungry. We walked over to a restaurant to have the famous fried pork rinds, known as torresmo.
My cousin picked us up to take us to the famous spot to eat traditional food of Porto called Francesinha. It is not so easy to describe, but let's say it's less a sandwich and more of a full meal. One doesn't even need an appetizer to eat this dish. We drank Vinho Verde, the traditional Portuguese green wine, which you can enjoy sparkling or flat. It was a chilly night, but the warm sauce of the Francesinha was like a warm blanket. This sandwich is epic: "It packs wet-cured ham, linguiça (a Portuguese sausage), plus steak or roast beef, inside two slices of thick bread, and everything is covered with melted cheese and a special tomato and beer sauce." -Taste of Porto.
I wasn't able to finish the whole sandwich. It was enormous. We then walked over to a local bar where we had delicious white sangria. To this day, my cousin takes a selfie every time she is there, recalling our good times together.
The next night we had dinner further away at this cool location to eat the famous bacalhau, aka Portugal's famous cod dish. Our cousin ordered some amazing appetizers which were more like a feast. They brought out this huge crab dish called sapateira which is a "food favorite of stone crab stuffed with a mixture of crab meat and roe, shallots, egg, capers, beer, mayonnaise, mustard, and paprika." They had also brought over bread, olives, mini pizzas, and more. My husband always says I don't know how to eat appetizers. I devour them, and I really wish I had not.
Little did we know how big the cod dish would be, and how incredible it would be. We wish we had saved more room in our bellies. When the cod came out, it looked like a floral path of mashed potatoes on top. That's right, they bake the codfish with these delicious mashed potatoes that just melt in your mouth. It truly was incredible.
Since we had a car, our cousin also drove us by the water, and we actually stopped and visited the lighthouse: Farolim de Felgueiras. She had told us sometimes young couples go there to make out, but we actually ran into a couple in their 50s or 60s on this cold evening cuddling, lol. They walked away as soon as we got there. The waves were fierce, and it was super windy, so I didn't go all the way down. I waited for the guys to come back, but felt the wind on my face, and was thankful for such a lovely day.
How to get around Porto?
Walk: Depending upon where we are staying, you can enjoy the best 3-day tour of Puerto del Carmen without taking any public transportation. Porto is walkable but bring comfortable shoes because the hills are steep. Metro: These trains are underground at the center of the city and above ground in the suburbs. It is quite cheap: single journeys around town centers are $120 and increase their cost with your travel. Get an Andantes Card at the airport and recharge it by using the machine. Bus: Journeys cost €1.20 in andante cards or €2 in cash.
Other things to do in Your Porto Itinerary
Free walking tour
Walking Tours are available all over the planet, I'm really happy. They have taken me all over Cape Town and even Copenhagen. Both of Porto's most popular operators are Porto Walkers and Sandeman New Europe Tour a local guide offering informative introductions to the city. If you choose the Sandeman one, the flight departs around 11:00 am near the Clérigo Tower. Climbing before the view is breathtaking 360 degrees. After a short tour, you will return to those places that really interest you.
Planning a trip to Porto, Portugal?
Even though porto is a relatively small town it is necessary to plan a quick and easy trip to the port in a relatively easy time. Porto is spread out across the city – so for a truly memorable visit you should walk down its streets. The beaches in the Atlantic Ocean are easy for a walk and the vineyards surrounded Douro Valley are easily reachable by train. We think Porto's itinerary offers just what it needs! Determination of the number of days in Porto depends upon your Portugal-centric itinerary (in particular, your European route).
Overall, Porto can be done in a day, but if you do have more time, definitely explore nearby towns, or even venture out to wine region.
Some Photos from Our Porto Trip