When you're planning your family vacation, having to address worries is the last thing you want to do. After all, you're getting away to get away from all your worries, right? You may be thinking, is Portugal Safe? Well, if you're heading to Portugal, consider yourself heading in the right direction, because Portugal is a safe, family-friendly destination.
But don't just take my word for it; let me break it down for you. In my opinion, Portugal is safe for American tourists.
First off, Portugal is consistently ranked as one of the safest countries in Europe. In fact, according to the Global Peace Index, it's the 6th most peaceful country in the world.
So, you can breathe a sigh of relief knowing that you and your family will be in good hands while exploring all that Portugal has to offer. I am so excited that I leave for our Portugal family trip in exactly 50 days.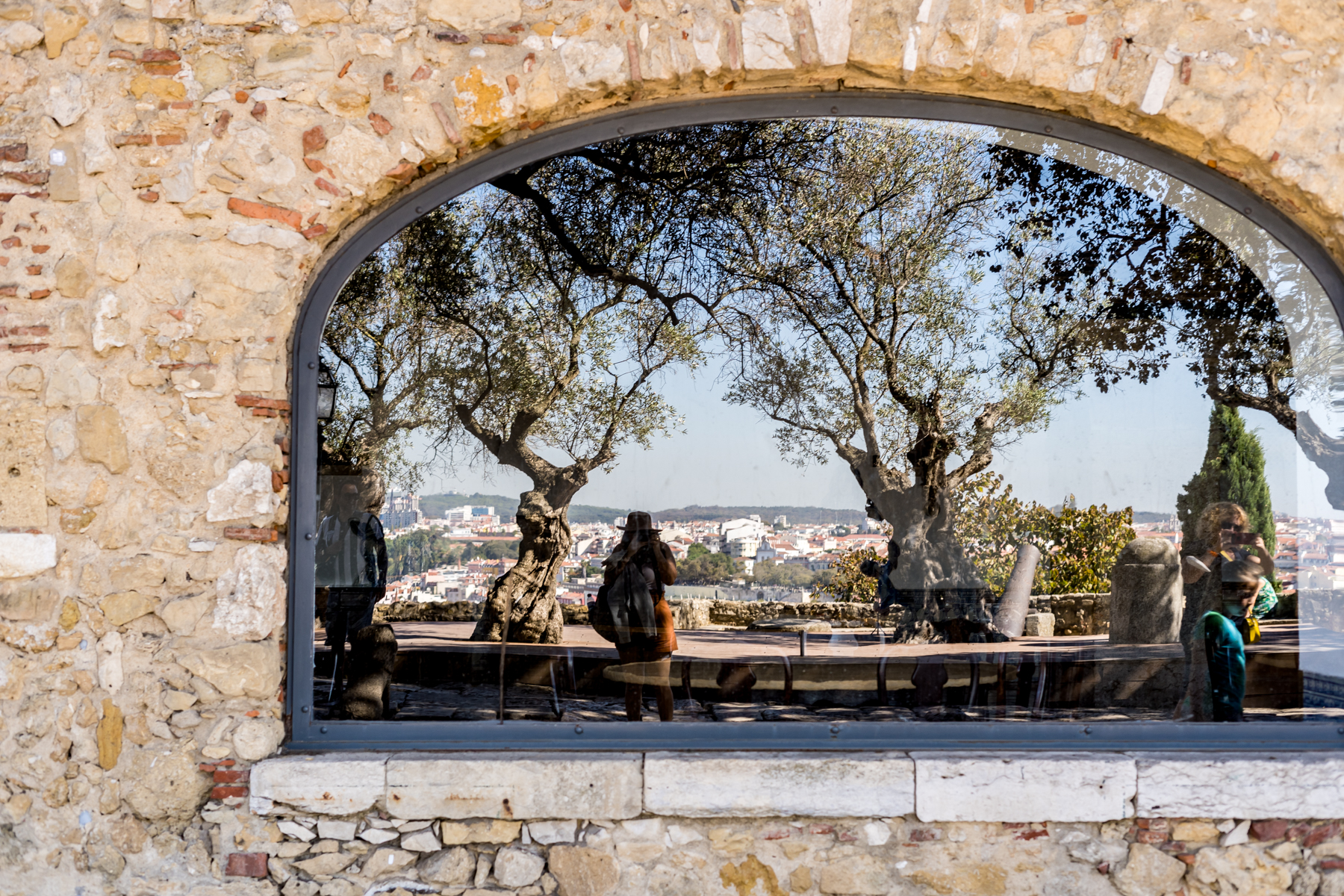 Table of Contents
But what about the crime rate, you ask? Well, it's relatively low, especially when compared to other major European cities. Pickpocketing and purse snatching do occur, but it's nothing out of the ordinary and can easily be avoided by not wearing flashy jewelry or watches, keeping your bags crossbody and hard to grab, and being aware of your surroundings.
Just like any travel destination you might consider, it's a good idea to familiarize yourself with local laws and customs, and to respect the cultural norms of the country you are visiting. Not just to make sure you're following the laws, but the less you look like a tourist, the less you'll be targeted by any thieves.
Basically, they assume that tourists are all rich and carry around a lot of money, so don't look like a tourist. In other words, get to know the place you're going a little bit before you go so you can blend in. 
If you have any specific concerns about safety in Portugal, it's a good idea to research the local area, but always know that the national emergency number is 112. Put that in your memory bank and in your phone. Polícia de Segurança Pública (PSP) is the public security police for populated cities and they work mostly to prevent crimes.
The National Republican Guard (GNR) is more often found in the rural areas. The PSP and GNR do not investigate major crimes, though; that falls to the Judicial Police, which is a different agency. So, dialing 112 is your best and most direct way to get to the right people to help you in an emergency.
Gather the contact numbers for embassies (the US Embassy in Lisbon info here), plus any other offices you may want on your phone list ahead of time, and you can even call them with questions before you go.
Read on for more safety considerations for your trip to Portugal. After all, the more you prepare ahead of time, the less you'll worry while you're on your vacation.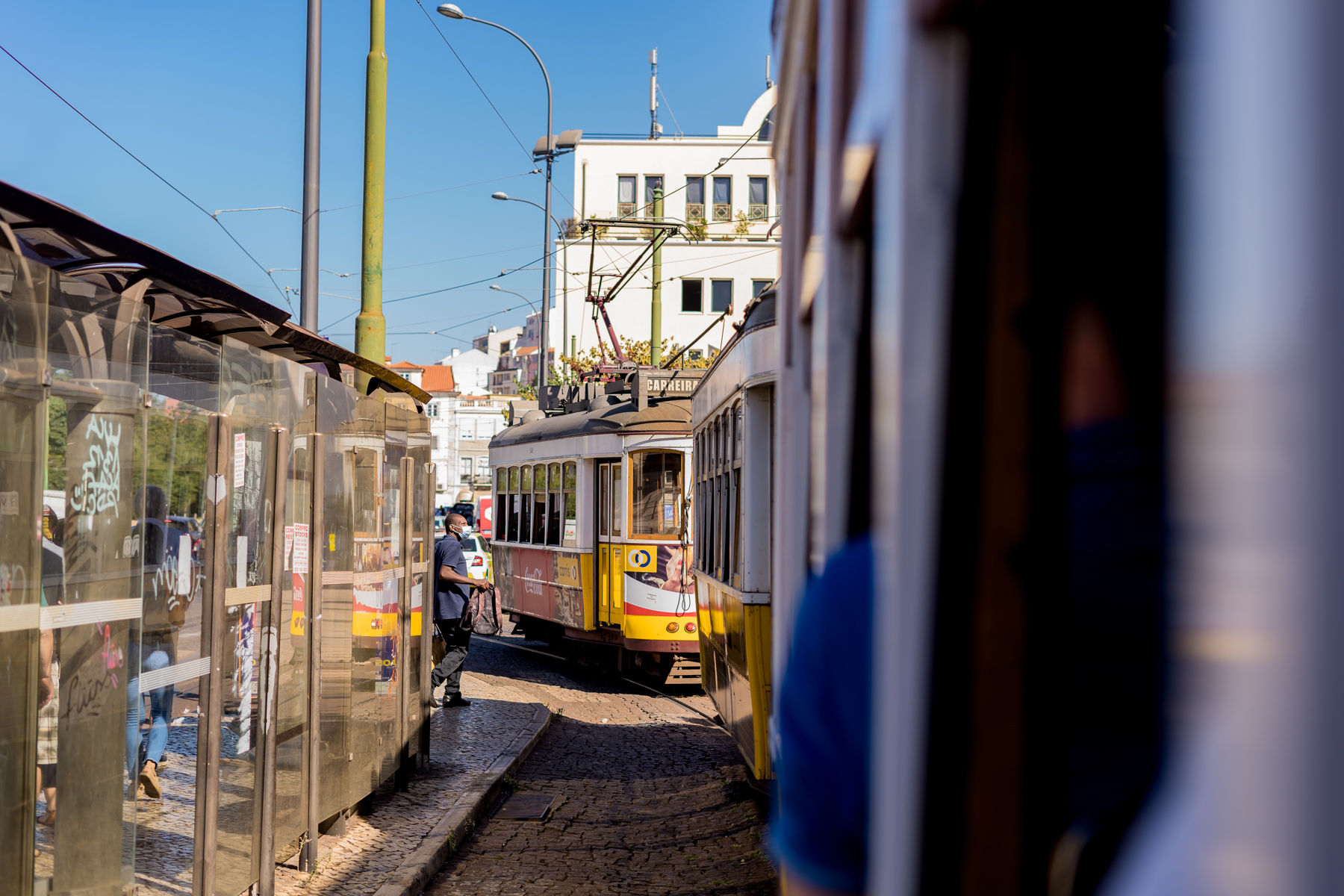 Safety in Lisbon
When it comes to Lisbon, the answer is a resounding yes – it's a safe and welcoming city for visitors. The crime rate in Lisbon is relatively low, and the city is known for being a welcoming and friendly place.
As with any major city, it's always a good idea to be aware of your surroundings and keep your valuables close, but overall, Lisbon is a safe place to visit.
The city is well-lit and has a strong police presence, so you can rest assured that you and your family will be in good hands while exploring the city. Additionally, Lisbon has a great public transportation system, making it easy and safe to get around.
Despite the low overall crime rate, Lisbon, like other major cities, seems to be where most of the pickpocketing occurs. https://travellersworldwide.com/is-portugal-safe/ This is certainly due to the more dense population of the capital city and the number of tourists.
Take all the precautions that you read about and apply them when in Lisbon. Rule number one is don't wear expensive jewelry, wave around an expensive camera, or really anything that would cause a thief to target you in the first place. Some more common-sense travel rules include:
Always keep an eye on your belongings, and do not leave anything unattended, especially in your car.
Don't fall for distraction scams. Examples are thieves posing with petitions you may want to sign. As a tourist, be wary of anyone who approaches you.
Keep cash out of sight. Use an international bank card, which are accepted in most establishments.
Be aware that in any hotel in the world, things can be stolen from your hotel room if you leave your valuables there, just behind the door. Use the hotel safe.
Be cautious when using ATMs or exchanging money in public… and if you don't have to, don't. If you need cash, the safest place to get a large amount of cash is at the ATM in the city center.
If you've trained yourself to be a careful traveler, these things are already second nature and you have nothing to worry about.
Side note: When we visited Lisbon last time, we saw a lot of street vendors selling weed and some other sketchy things. We didn't feel unsafe but thought it was very strange. We did indeed see police all around.
Although drugs were decriminalized in Portugal in 2001, it seemed more visible to us this time.
When I did some more investigating into this, it seems that scam artists have been frequently offering fake drugs on the street to tourists. We will be back in March with our kids, so I will update you if this occurs again.
Public Transportation Safety
Portugal has top-notch public transportation. They are fast, clean, kept updated, and they're on time. Safety is also top priority. Their train and bus systems are safe, reliable, and efficient. Here are some things you'll want to know safety-wise for getting around to all your favorite places.
Trains in Portugal
There are regional, intercity, and high-speed rail options in Portugal, all operated by CP (Comboios de Portugal), and they're a great way to travel. You can buy all of your tickets online, saving you the hassle of standing in any lines or displaying your wallet. https://www.cp.pt/passageiros/en/buy-leisure
The high-speed bullet trains (called Alfa Pendular) are very popular. There are two classes of train tickets, which you may not be used to seeing. First-class is "Conforto," and second-class seats are called "Turistica." https://www.portugaltrains.com/alfa-pendular-second-class.html .
Yet, no matter where you sit, you'll be amazed. On the second-class, there is leg room. Folding tables. Power outlets. Free wifi. Yes, toilets. There is even onboard catering, plus a "bar car" that's open for the entire ride where you can get beverages and snacks. They're modern, comfortable, and clean.
No, seriously, they are. You may have to see it to believe it. And if you'd like to upgrade to first-class, you will additionally get a free drink, access to CP lounges, media center, audio/video outlets, and you can take your pet on board!
Refer to the Alfa Pendular website for any limitations. https://www.portugaltrains.com/alfa-pendular-first-class.html But, back to safety, let's talk about how to avoid losing your belongings on a train.
The basics are, for storage areas near a door, try to sit near your luggage, or you may be able to use a small cable lock to secure it.
For smaller bags, place in an overhead rack on the other side of the aisle from you, so that way you can always have your eye on it. A type of theft that's become more common on metro trains is grabbing someone's phone and jumping off the train just before the doors close.
So, when the doors are open at a stop, have your phone stashed in your pocket. https://www.corporatetravelsafety.com/safety-tips/how-to-avoid-luggage-theft-on-e
Buses in Portugal
Portugal has a number of businesses that run domestic buses, with Rede Expressos being the biggest.
Bus travel is a terrific way to get about from place to place, albeit it is typically quicker and less comfortable than traveling by train.
Carreiras, Rapidas, and Expressos are the names of the slower local, regional, and intercity buses, respectively, in Portugal. https://www.portugalvisitor.com/portugal-travel/portugal-buses#b
The metro and buses in Lisbon, Porto, and other large cities are secure and well-maintained for urban travel.
Use the same travel advice and suggestions I've already given you when on the train, especially when using cell phones.
The majority of buses and metro stations feature security officers and CCTV cameras.
Lisbon Trams
Trams, otherwise known as trolley cars or streetcars, can be found in Lisbon as a novel way to get around the city. There are 58 different trams that cover 5 routes.
Trams are easy-on, easy-off, and provide not just a fun ride, they're useful and also a big tourist attraction for the city.
Prices are low, and you can buy a travel card. https://www.lisbon.net/7-colinas-viva-viagem For safety, though, I'm noting that the UK has warned the 15 and 28 trams in Lisbon.
The 15 is heavily used because it connects the city center and Belém, and even the tram's website warns passengers against pickpocketers, due to it always being jam packed.
The 28 tram is also heavily used by thousands of tourists, and it travels between São Jorge Castle and Bairro Alto, crossing through Graça, Mouraria, Alfama, Baixa, Chiado, and Madragoa.
Both are recommended trips, but just be aware of the heightened risk. https://www.lisbon.net/tram
Taxis in Portugal
While not considered public transit, it's still an option worth mentioning. If you'd like to avoid figuring out schedules and routes, you can just hail a cab. You may also want to take a taxi when it's late at night and you're unsure about the trains and buses, or you're traveling outside their schedules.
Just make sure it's a licensed taxi, and make sure the meter is running. 
In general, the public transportation in Portugal is safe, reliable, and efficient. It's truly a great choice for families with older kids who want to explore the country without worrying about safety.
Don't hesitate to hop on a train, bus, or tram and discover all that Portugal has to offer.
Does Portugal experience natural disasters?
Portugal is generally considered a safe destination when it comes to natural disasters. However, like any country, it does experience some natural hazards.
At any time of the year, you can refer to Portugal's Civil Protection Authority for safety information about related hazards. http://www.prociv.pt/en-us/pages/avisos.aspx?detailId=46 The most common natural hazards in Portugal include:
Forest fires: Portugal is known for its beautiful forests, but the country also experiences forest fires, with the highest risk during the summer months. Due to more drought and higher temperatures in recent years, unfortunately, fires are becoming more common. For current cautions, consult this site for the fire danger levels for the area you're in. https://www.ipma.pt/en/riscoincendio/rcm.pt/#
Floods: Portugal is prone to floods, especially in the northern part of the country and parts of Lisbon. These floods are usually caused by heavy rainfall and can be dangerous for people living in low-lying areas. There can be delays and closures of public transit, including road closures to all vehicles.
Storms: Portugal experiences storms and high winds, especially during the winter months. These storms can cause damage to buildings and infrastructure and therefore can pose dangers for anyone nearby.
Earthquakes: Portugal is located in an active seismic zone, but most of that activity is in the Azores far offshore, and in the deep ocean south of the Algarve Coast. According to Reliefweb, "Portugal suffered two recent major earthquakes and tsunamis in February 1969 in continental Portugal, and in January 1980 in the Azores, killing some 80 people altogether." So, while it does happen, it is not a frequent occurrence. The good news is, Portugal has joined an early warning network and has technology in place to detect and warn people much earlier today. https://reliefweb.int/report/portugal/portugal-joins-tsunami-warning-network
Get travel insurance. Most travelers don't think about this before getting to their destination, so don't be one of those people. You may want to check out SafetyWing, which specializes in covering global travelers and digital nomads.
In addition to being aware of specific potential hazards, it's always a good idea to be aware of the general weather forecast while traveling in Portugal.
It's also important to follow the advice of local authorities who know their location and how to proceed safely, so don't panic and do what's advised.
Portugal has a well-organized Civil Protection Department that deals with natural disasters and emergencies, and they are in charge of issuing alerts and providing guidance to the population.
So, to wrap up this somewhat anxiety-producing topic, please take heart that while natural hazards do occur in Portugal, they are relatively rare, and the country is generally considered a safe destination.
I've included this information here as a resource and because it's always important to be prepared and informed.
Is Lisbon safe for solo female travelers?
Lisbon, like any other city, has its own unique set of safety considerations. In general, Lisbon is considered to be a safe city for solo female travelers. Catcalling and verbal harassment are illegal, so you won't have to feel uncomfortable in the streets.
However, as with any city, it is always important to be aware of your surroundings and to take steps to protect yourself and your belongings.
Here are a few safety tips for solo female travelers visiting Lisbon:
Let someone know where you're going. Text a friend or family member to create a string of bookmarks for where you have been and where you're headed.
It's best to stay in touristy areas if you're alone and not go into neighborhoods you're not familiar with.
Plan your route beforehand, and make sure you know how to get back to your hotel or other safe place.
Don't over-drink, as mixed drinks prepared overseas are stronger. You may know your limit, but that number may be much lower in Portugal.
Never accept a drink from a stranger, and keep your drink in sight at all times to avoid it being spiked.
Use licensed taxis or other reliable transportation options to get around the city.
Avoid wearing expensive jewelry or carrying large amounts of cash, as this can make you a target for crime.
Although these tips might sound like you're going into a scary environment, these are just common-sense ways to avoid random issues as a woman anywhere in the world, even when you're not on vacation.
Solo female travelers can definitely have a safe and enjoyable time in Lisbon, so get out there and have a blast.
Final note: If you end up needing to report a crime or theft, do so right away, since it might be required for insurance purposes to have that police report. Call 112, the national emergency number, to ask for help or report a crime.
Is Porto Safe?
Porto is Portugal's 2nd-largest city, next to Lisbon, so all of the tips that we've covered for Lisbon in general will apply to Porto. There is no need to feel that the city is unsafe. Just take precautions for pickpocketing and watch your belongings, and your vacation will be smooth sailing. https://www.lonelyplanet.com/articles/things-to-know-before-traveling-to-porto
The main things to be aware of in Porto are:
The same precautions about petty thievery apply to Porto, just as in Lisbon, being a major city.
Be especially aware on the trams or anywhere that's bustling and causes you to bump into other people.
On the other hand, don't go into an empty metro or train compartment. Sit next to other people and don't be a "sitting duck."
Don't zone out looking at your phone. Look around! You didn't come to Porto to stare at a screen, so put it away.
Don't walk down the dark alleys of the Ribiera or the train station after dark. Take a taxi.
Portos hills and uneven pavement can have you spraining an ankle if you're not in comfortable, stable shoes. Don't get hurt.
You'll want to avoid Bairro Pinheiro Torres, an area with increased drug-related crime and increased violence compared to other areas.
The national crime and safety hotline number is 112 for emergency assistance.
Yes, this blog was all about safety, so hopefully, you've got a lot more information under your travel belt to help your trip go smoothly and keep your itinerary on point. I hope none of this preparatory information made you think twice about visiting one of the most stunning places on the globe.
Again, according to the World Peace Index, Portugal comes in behind only Iceland, New Zealand and Denmark for overall safety, making it the second most peaceful country in Europe.
So, don't let the lists of precautions make you feel sketchy about your trip! You're going to one of the most beautiful areas in the world, in one of the most peaceful countries in the world. You've got this.
Read some other Portugal-related blog posts.
How to Move to Portugal in 2023