Hello, fellow wanderers! It's your travel companion from Fuse Travels, back at it again, this time journeying through the sun-kissed landscapes of Italy in July.
As Tony Bourdain once said, "Travel changes you. As you move through this life… you leave marks behind, however small. And in return, life—and travel—leaves marks on you."
Today, let's leave our mark on Italy and let Italy leave its mark on us.
Table of Contents
The July Heat: Embrace It or Beat It?
Photo by
Arno Senoner
on
Unsplash
No sugar-coating here, travelers—July in Italy is hot. Let's cut to the chase, adventurers: July in Italy is a bit like being in a sauna, only with better scenery and tastier snacks.
We're talking the kind of hot that makes gelato not just a luxury, but a necessity. And looking cute for Instagram may just be possible at the beach.
But hey, that's all part of the experience, right? So, lather on that SPF, grab an extra bottle of water, and remember: in Italy, you're not sweating, you're glistening.
Be cautious of heat waves especially with smaller children. Hydrate as much as possible too!
The Weather Whisperer: Understanding Italy's July Climate
The heat can be quite intense, with average temperatures typically hovering between 25 to 30 degrees Celsius (that's 77 to 86 degrees Fahrenheit for our American friends).
The further south you venture, the hotter it tends to get, with some southern regions and the islands occasionally seeing the mercury rise into the mid-30s Celsius (95 degrees Fahrenheit).
Don't let that scare you off, though. It's not all relentless sun and high temperatures. It's also the driest month of the year, with rainfall averages at their lowest.
This means you're likely to encounter few showers, which is good news for those who plan to fill their travel diaries with endless outdoor adventures.
Rome, the Eternal City, averages around 25 degrees Celsius (77 degrees Fahrenheit), with almost zero rainfall.
The beautiful Venice, on the other hand, is slightly cooler but equally dry, while Florence in the heart of Tuscany maintains a perfect balance at around 30 degrees Celsius (86 degrees Fahrenheit) with minimal rain.
So, what's the moral of this weather tale? Pack your lightest clothes, don't forget your sunglasses and a hat, and prepare for a lot of sunshine.
While some may shy away from the summer heat, others (like yours truly) see it as an opportunity to embrace the Italian lifestyle. Siestas, gelato breaks, and cool evening strolls become a delightful part of the daily rhythm. And let's face it: there's something quite magical about those long, balmy summer nights in Italy.
So gear up, fellow adventurers. Italy in July might be hot, but it's also vibrant, lively, and utterly unforgettable. As always, travel with an open heart, a curious mind, and a sturdy water bottle!
Slowing Down to Savor Italy in July
I always say that slow travel is the best travel. And in Italy, this couldn't be truer. One does not simply visit Italy; one experiences it, savors it, gets lost in it.
So forget rushing from one tourist trap to another.
Instead, indulge in a leisurely al fresco lunch, lose track of time in a centuries-old piazza, or discover a hidden gem of a beach along the breathtaking coast.
Remember, as your trusty guide from Fuse Travels, my mantra is: follow your curiosity, not the crowd. Learn more about driving in Italy.
Photo by Mikita Yo on Unsplash
The Summer Hotspots: Where to Be in Italy this July
As your fellow traveler and guide, I'm here to give you the rundown on the must-visit spots for an Italian summer extravaganza. Rome, Florence, Tuscany, Venice & the South – each holds its unique allure.
Rome: With Caution
July in Rome is like stepping into a time machine, only with more gelato shops and Vespas. The city teems with life, as locals and tourists alike take to the streets to revel in the summer sun.
The Roman Forum, Colosseum, Pantheon, Vatican City – each offers a peek into the city's rich history.
Yet, Rome is not just about the past; it's a bustling metropolis with a thriving contemporary culture. Piazza Navona and Trastevere are perfect for those looking to soak up the city's vibrant nightlife.
I would not spend too many days in Rome in July as I feel it is too hot. Many great activities are outdoor activities and long lines.
When it comes to accommodations, consider staying in a central neighborhood like Trastevere or Prati. These areas offer easy access to major attractions and a plethora of delightful eateries.
But remember, Rome in July is bustling, so book your accommodation and any must-see sights in advance to avoid disappointment.
Photo by Will Truettner on Unsplash
Florence: The Artistic Soul
Florence in July is like walking into an open-air museum. This Renaissance gem is home to breathtaking art and architecture. Must-visit spots include the Uffizi Gallery, Florence Cathedral (Duomo), and Ponte Vecchio.
Yet, Florence is not only about the classics. Stroll around the Oltrarno district to discover local artisans' workshops and trendy boutiques.
For the ultimate Tuscan experience, consider a stay in the historic city center or in the charming Oltrarno district.
Given the high temperatures, plan to visit major outdoor sights early in the morning or later in the evening when the crowds thin and the sun is less fierce.
How To Visit Florence on Your Own.
Tuscany: A Taste of Rural Bliss
Beyond Florence, Tuscany in July is a spectacle of golden hills, vineyards, and rustic farmhouses.
Consider a day trip to Siena, known for its medieval cityscape and the Palio horse race in July, or escape to the Chianti region for a wine-tasting tour.
Stay in a countryside agriturismo (a farm stay) for an authentic experience, or in Siena if you wish to be in the heart of the action. Remember, Tuscany's charm lies in its slow pace, so take time to unwind and savor its natural beauty.
The Coastal Charms: Embracing Southern Italy
For those who dream of sun, sand, and sea, Southern Italy is your July paradise. But remember, dear adventurers, it's not all about the glitz and glamour of Positano, Amalfi Coast, or Capri. There's much more to the South than these hotspots.
Puglia: Italy's Best Kept Secret
Puglia, the heel of Italy's boot, is a summer haven without the crowds and high price tags. Expect crystal-clear waters, whitewashed towns, and some of Italy's most delectable cuisine.
The charming town of Polignano a Mare, famous for its cliff-side beach, and the fairy-tale trulli houses of Alberobello are must-visits.
For accommodation, consider the city of Bari or the quieter towns of Lecce or Ostuni. These locations give you the freedom to explore Puglia at your own pace and are generally more affordable than the tourist-heavy Amalfi Coast.
Photo By Hugo Zlotowski On UnsplashSicily: A Summer Love Affair
Sicily in July is an intoxicating mix of stunning beaches, ancient ruins, and mouthwatering food. Wander through the Valley of the Temples in Agrigento, hike up Mount Etna, or soak up the sun on the beaches of Cefalù. Sicily has it all.
When it comes to staying in Sicily, Palermo, the capital, offers a range of affordable accommodations.
But if you're looking for a quieter base, consider the town of Taormina. Its hilltop location offers breathtaking views of the coast and the volcano, with plenty of charming lodging options.
Check my my Sicilian Summer Guide.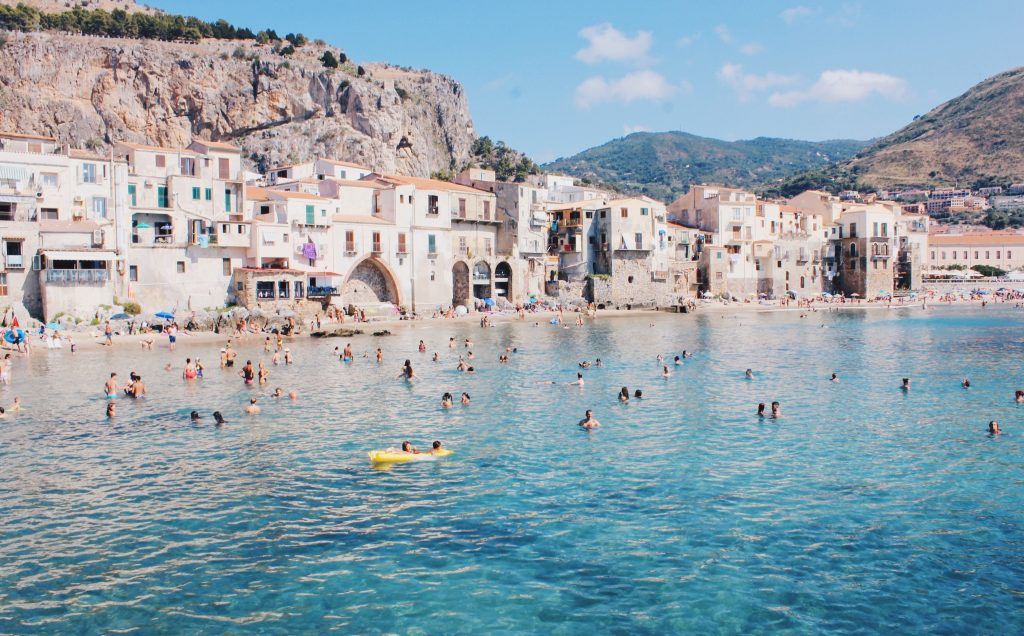 Photo by Hugo Zlotowski on Unsplash
Sardinia: The Island Escape
Less crowded than the Amalfi Coast, Sardinia boasts some of Italy's most stunning beaches. Its turquoise waters, white sandy beaches, and rugged landscape make it an excellent choice for beach lovers and hikers alike.
Consider staying in Alghero, a historic seaside town with a good range of accommodations. It's the perfect base for exploring the island's diverse landscapes and offers a more relaxed atmosphere than the glitzy Costa Smeralda.
So whether you're a culture vulture, a beach bum, or a foodie, Southern Italy has something for you. And the best part? It won't break the bank.
Outdoor Activities in Italy in July
Here's a quick and easy list of the top outdoor activities you simply can't miss while exploring Italy in July:
Hiking:

Where: Cinque Terre trails, the Dolomites, and Mount Etna in Sicily.
What to Bring: Hiking boots, sunblock, water, snacks, and extra layers for cooler mountain temperatures.

Swimming:

Where: The white sandy beaches of Sardinia, lidos of Sicily, or the wild shores of Calabria.
What to Bring: Your swimsuit, a towel, sunblock, water, and maybe a good book or beach game for relaxation.

Wine Tasting:

Where: The rolling vineyards of Tuscany, Piedmont, Veneto, Sicily, or Puglia.
What to Bring: A hat, sunblock, and a keen palate for Italian vino!
Remember, fellow explorers: respect the environment, stay safe, stay hydrated, and have a blast while you're at it! These activities are here for you to enjoy and create unforgettable memories.
Just as the Italians say, "La vita è un viaggio" – Life is a journey. So why not make it an adventurous one?
Savoring the Season: Food and Drink in Italy in July
Italy's culinary landscape is as diverse and vibrant as its geography. Each region has its specialties, and July brings a bounty of fresh and delicious foods to the Italian table. Here's a list of seasonal delights to indulge in:
Gelato: You'll find this delicious Italian ice cream everywhere in Italy. While you can never go wrong with classic flavors like stracciatella or pistachio, don't miss out on the seasonal fruit flavors such as fragola (strawberry) and pesca (peach). When in Rome, give Gelateria dei Gracchi a try.
Seafood: Coastal regions like Sicily, Sardinia, and Liguria offer a fantastic array of fresh seafood. Sicily's pasta con le sarde (pasta with sardines) is a must-try. When in Venice, opt for sarde in saor, sweet and sour sardines, a local specialty.
Rosé Wine (Rosato): As the temperatures rise, the wines lighten. The Puglia region is famous for its robust and fruity rosé wines. Another region to consider for rosé is Abruzzo, known for its Cerasuolo d'Abruzzo.
Fruit and Vegetables: July brings a wealth of fresh produce to Italy. In Emilia-Romagna, don't miss the chance to taste sweet and juicy peaches. For tomato lovers, the sun-ripened pomodori from Campania are second to none.
Here's a handy table to guide you through Italy's July food scene:
| Food/Drink | Region | Notes |
| --- | --- | --- |
| Gelato | Nationwide | Try seasonal fruit flavors |
| Seafood | Sicily, Sardinia, Liguria | Pasta con le sarde in Sicily, sarde in saor in Venice |
| Rosé Wine (Rosato) | Puglia, Abruzzo | Robust and fruity in Puglia, Cerasuolo d'Abruzzo in Abruzzo |
| Peaches | Emilia-Romagna | Sweet and juicy |
| Tomatoes | Campania | Sun-ripened and full of flavor |
Remember, one of the joys of travel is tasting your way through a country's culinary delights. Italy in July is a gastronomic treat that's not to be missed. Buon appetito!
Sip the Summer: Top Drinks in Italy in July
Italy isn't just about food, folks! The beverages – both alcoholic and non-alcoholic – are just as tempting. So, whether you're a teetotaler or a connoisseur of wines and spirits, we've got you covered:
Non-Alcoholic Drinks:
1. Italian Sodas: Refreshing and available in a rainbow of flavors, Italian sodas are a must-try. In Rome, try the San Pellegrino Aranciata, a sparkling orange beverage that is perfect for the summer heat.
2. Granita: Originally from Sicily, this semi-frozen dessert is made from sugar, water and various flavorings. Lemon, almond, and coffee are traditional flavors. On a hot July day, nothing beats the heat like a refreshing granita.
3. Acqua Frizzante: Simply put, this is sparkling water. Italians prefer it over regular water, especially during meals. It's served everywhere, so give it a go!
Alcoholic Drinks:
1. Aperol Spritz: This iconic Italian aperitif is especially popular in the Veneto region but is enjoyed throughout Italy. It's a refreshing mix of Prosecco, Aperol, and soda water, served with a slice of orange. Perfect for a summer evening!
2. Limoncello: A sweet lemon liqueur mainly produced in Southern Italy, especially around the Gulf of Naples, the Sorrentine Peninsula and the Amalfi coast. Best served ice-cold, it's a great way to end a summer meal.
3. Prosecco: From the Veneto and Friuli Venezia Giulia region, this sparkling wine is a classic. Enjoy a glass (or two!) on a balmy July evening.
4. Rosato: As mentioned earlier, Rosato (Rosé) from Puglia and Abruzzo is a great choice for summer sipping. It's light, refreshing and pairs well with summer foods.
Enjoy these yummy drinks and if you want to learn more about Italian Cocktails, then check out my Italy Drink Guide.
What to pack for Italy in July – Women's Guide
Packing for a summer trip to Italy doesn't have to be overwhelming. With a few key essentials, you'll be ready to explore the country in style and comfort. Here are some must-haves for your suitcase:
Lightweight clothing: Italian summers are hot, so pack light, breathable clothing. Think cotton and linen dresses, blouses, and skirts.
Comfortable walking shoes: From the cobblestone streets of Rome to the rolling hills of Tuscany, you'll be on your feet a lot. Comfortable sandals, loafers, or sneakers are a must.
Swimwear: Don't forget your swimsuit for those blissful beach days or hotel pool dips.
Sun protection: Italy's summer sun is strong. Pack a stylish wide-brimmed hat, sunglasses, and a high SPF sunblock or 5 bottles.
Evening wear: Italians are stylish, especially in the evening. Pack a couple of chic dresses or outfits for dining out or enjoying the nightlife.
Light sweater or shawl: Evenings can sometimes get cool, especially in the northern regions or if you're near the coast.
Crossbody bag: A small, secure bag is ideal for carrying your essentials while exploring. It's less appealing to pickpockets and leaves your hands free.
Travel adapter: Italy uses Type C, F, or L plugs, so bring an adapter if you're traveling from a country with different plug types.
Reusable water bottle: Stay hydrated! Italy has plenty of public water fountains where you can refill your bottle for free.
Quick-dry towel: Handy for spontaneous beach visits or a picnic in the park.
Remember, Italy is all about "la bella figura" (making a good impression), so aim for a balance between comfort and style.
Check out my full list on what to pack for Italy.
And of course, leave a little room in your suitcase for all those irresistible Italian souvenirs! Buon viaggio, ladies!
Check out Italy in May