Florence is often cited as one of the most beautiful cities in the world, and for a good reason. With its stunning architecture, incredible art, and delicious food, it's easy to see why so many people flock to this Tuscan city every year. I have been to Florence a total of 4 times, and it is magical.
If you're thinking of traveling to Florence on your own, there are a few things you should keep in mind. First and foremost, Florence can be quite crowded, particularly during the peak tourist season (May to September). If you're looking to avoid the masses, consider traveling outside of these months. October through April are typically less crowded, and those months also offer more reasonable prices on accommodations and activities.
Another thing to keep in mind when traveling to Florence is that it's a very walkable city. With that said, there are still a few must-see sights that require a bit of traveling by bus or taxi. The Duomo, for example, is located in the center of the city and can be easily reached on foot from most hotels and apartments. However, destinations like the Boboli Gardens and Pitti Palace are located a bit further outside of the city center and require public transportation to reach them.
So let's chat how to visit Florence on your own!
Here are my top tips for visiting Florence, Italy.
Do people ask if Florence is worth visiting? Absolutely.
Some people may not want to visit Florence several times as I did, but if it's your first time in Italy, I strongly recommend you visit Rome and Florence. My husband and I have made several road trips from Italy to Florence, which you can read more here:
The 411 of Driving in Italy
4 Tuscan Cities to Visit for Couples
7 Romantic Things to do in Tuscany
How Many Days Should You Stay In Florence
I recommend you stay in Florence for a minimum of 3 days, as this will give you a chance to make day trips to other areas in Tuscany. In our past visits, we've gone to Siena, Montepulciano, Cinchiano, and San Geminiano. You can also do day trips to places like Lucca and Pisa.
I feel that Florence can be fully explored in one day, but of course, if you have more time, then you won't be rushed.
Where should you stay in Florence, Italy?
I love staying in the neighborhood called Santo Spirito. It is well located within walking distance of many tour spots. When I stayed near Pitti Palace, I felt that I was too far away. Additionally, I don't like to stay near the train station because that is further away from the city center as well. I also stayed close to the Duomo, but I barely slept that night as it was near a bar, and they were very loud!
Some stays in Santo Spirito area:
1.5-day itinerary for Florence, Italy
P.S. You can modify this to be a one-day Florence Itinerary only, as well.
If you arrive in the early afternoon, see if you can check in at your hotel or apartment, at least to leave your luggage. Then you can walk around, admire your area, and get to know it a bit more. Check out the cafes, restaurants, bars and shops. Next, stop by the local supermarket and get some wine and snacks. If you have some time, head over to Ponte Vecchio for your first stroll on the bridge.
About 1.5 hours before the sun goes down, start heading over to the Piazza Michalaneglo for an amazing sunset and jaw-dropping view of the whole city. You can either take a bus up or walk up. Check out this blog post for more tips.
Now that you're back, it's time for either aperitivo or a diner near your hotel. The following day will be a big day, so rest up.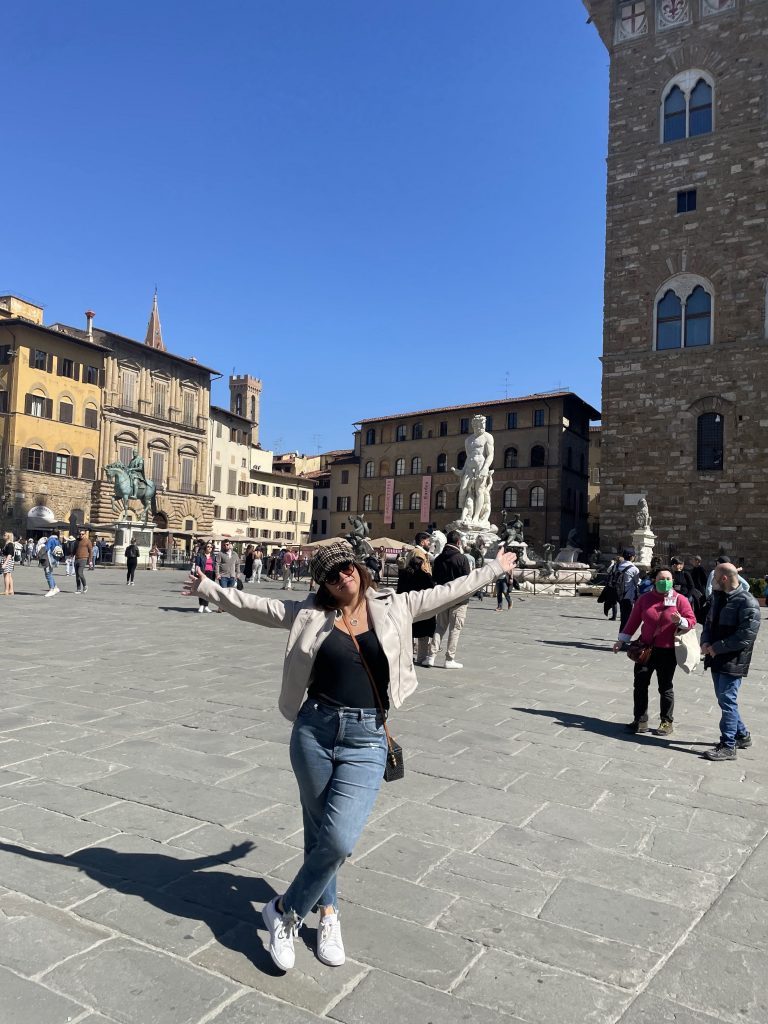 Full day in Florence, Italy
Good morning. First, wake up and have breakfast near your hotel or Airbnb. Try to sit outside and enjoy the scenery and do some people watching, and then take a walk towards the Ponte Vecchio, which is a must. Here you will admire the views and shop some of the fabulous jewelry brands on the bridge.
Ponte Vecchio
The Ponte Vecchio is one of the most iconic landmarks in Florence, and for a good reason. This historic bridge spans the Arno River and is lined with colorful houses and shops. It's a popular spot for both locals and tourists alike, and there are plenty of things to do here. Whether you're admiring the views, doing some shopping, or simply taking a picture, a visit to the Ponte Vecchio is a must when traveling to Florence.
Interesting note: The story of the Ponte Vecchio is that it was the only bridge that wasn't destroyed by the Nazis during WW2. The thinking was that they would want to preserve it as a symbol of Italian engineering and architecture. The Ponte Vecchio's two neighboring bridges are the Ponte Santa Trinita and the Ponte alle Grazie.
The stores on the bridge are super cool. There are men's watches there that I have never seen before with intriguing designs.
Luxury shops you'll find at Ponte Vecchio:
Goldsmiths
Silversmiths
Bronze workers
Lapidaries
Antique dealers
The oldest shop on the bridge is that of the goldsmith Filippo Casoni, which has been there since 1755. Casoni's great grandson is now the sixth generation of goldsmiths in the family to work from the Ponte Vecchio.
The most expensive brand sold on the bridge is Buccellati.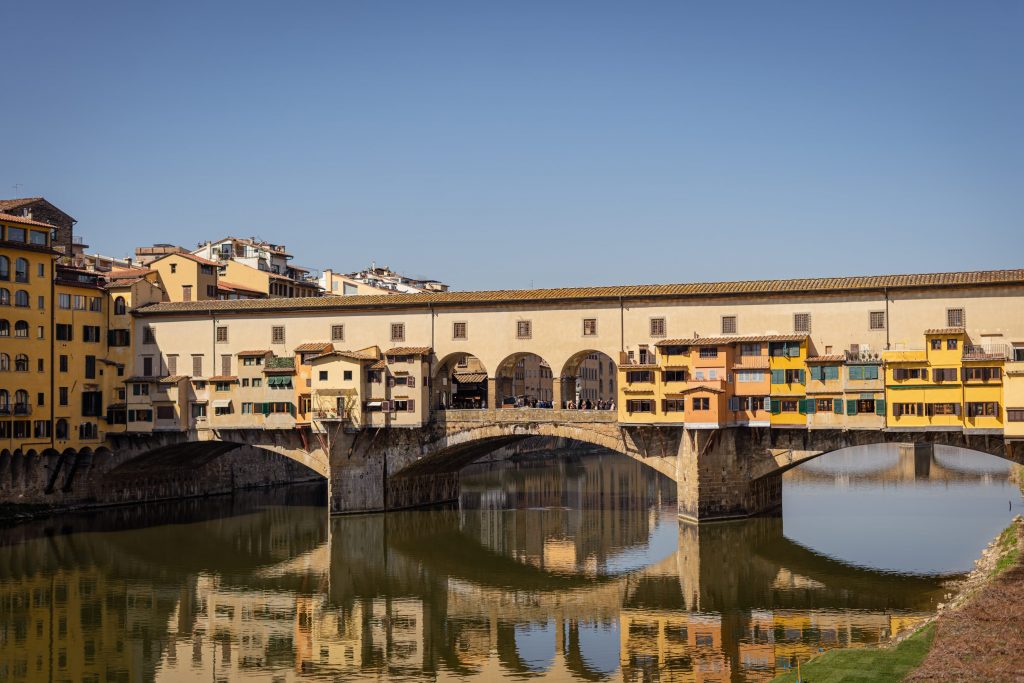 Buccellati is an Italian luxury jewelry and watchmaking brand founded in 1919 by Mario Buccellati. The brand is best known for its intricate gold designs and exquisite craftsmanship. Today, Buccellati is one of the most prestigious jewelers in the world, with a presence in some of the most exclusive department stores and boutiques around the globe. If you're traveling to Florence on your own and looking to do some high-end shopping, a visit to Buccellati is a must. Even if you're not in the market for anything, it's worth browsing the shop or simply admiring the incredible jewelry on display.
The Ponte Vecchio is also beautiful during sunset but can get more crowded later on, making it hard for that 'gram selfie.
After the stroll, head over to the Uffizi Gallery. It is best that you buy tickets ahead of time. This world-renowned art museum houses some of the most iconic paintings and sculptures from the Renaissance era. If you're traveling to Florence on your own, a visit to the Uffizi Gallery is a must. Even if you're not particularly interested in art, it's still worth browsing the galleries or simply admiring the incredible architecture of the building.
Just be sure to book your tickets in advance and arrive early, as there are often long lines. And don't forget to dress appropriately – no shorts, tank tops, or hats allowed! Be sure to plan ahead for time, too. How much time do you need to visit the museum?
– 1-2 hours is enough to see the highlights
– 3-4 hours if you want to take your time and explore everything
Prices –
– Tickets cost €20 for adults
– €8 for EU citizens ages 18-25
– Free for children under 18 and EU citizens over 65
Now take a stroll towards the amazing food market. It will take you about 12 minutes, and you will pass by the Duomo on your way there. Stop for a selfie, and then you will be back later after lunch.
Mercato Centrale is one of Florence's must-visit markets. There are so many kinds of food here, from grass-fed burgers to vegan meals to amazing desserts. Definitely arrive hungry. I feel it's best to try several things and really enjoy your time here. First walk around to see all the food options, then make your pick. I actually opted for the hamburger last time, and it was delicious. Of course, I had some beer as well.
Tips for visiting the Mercato Centrale:
In the past, it was recommended to bring cash in case there were vendors that didn't take credit cards. But this summer (2022), Italy just passed a law that all vendors must take credit cards, and no minimum charge is required.
Bring your own reusable bags if you plan to buy fruit, souvenirs, cheeses, etc.
Ask for recipe ideas, as the producers love to share
Ask the vendors for their favorite food on the menu and try something new
Use the bathroom. You will need to pay to get in unless you have a receipt of an item purchased
Now that your tummy is full, time to walk back to the Duomo area to go inside.
Note: If you plan to go up the Duomo, you may want to hit this up first thing in the morning, as you will need more time. So basically, swap the Uffizi Gallery visit time.
Here's everything you need to know about visiting the Duomo in Florence:
Construction on the Duomo began in 1296 and was completed in 1436. What is the Duomo made of? The exterior of the Duomo is made of white, pink, and green marble. The interior is decorated with beautiful stained glass windows and intricate sculptures. People love taking photos in front of its big doors.

The first time I went to Florence, in 2003, I had already missed a day of my trip due to bringing the wrong passport to the airport. (I cried for hours that night). So when I finally arrived, I felt I needed to make up time. My old college roommate would be busy until later, so I dropped my bags off at the train station and went straight to the Duomo. I climbed 463 steps to the top of the Duomo – which felt like forever to get up there, but the views were stunning! From the top of the Duomo, you'll have a 360-degree view of Florence and the surrounding Tuscan hills. It's truly a breathtaking sight!
General Info about the Duomo:
– Duomo ticket prices: Tickets to enter the Duomo cost 8 euros for adults, 4 euros for students, and children under 6 years old are free. You can also purchase a combo ticket that includes access to the Baptistery, Campanile, and Museum for 18 euros.
– How to get there: The Duomo is located in the heart of Florence, so it's easy to get to no matter where you're staying in the city. If you're taking public transportation, the closest stop is Duomo station.
– What to expect: The Duomo is an impressive sight, both inside and out. Be sure to take some time to admire the exterior before heading inside to see the beautiful ceiling and stained glass windows.
– Insider tips: If you want to avoid the crowds, visit early in the morning or later in the evening. And if you want to get a great view of the city, climb up to the top of the dome!
The Duomo is open daily from 8:00 am to 7:00 pm. The last entry is at 6:30 pm. You can easily spend a few hours in there, depending on what you want to see! 
So, now it's time for gelato and shopping! There are great luxury stores in Florence, and they are more affordable than in the USA. As I write this blog post, the euro is equal to the dollar, making it even cheaper, and you also get 12% VAT back at the airport. Make sure to request this special receipt when making your purchases.
Our family and I loved shopping at Zara, H&M, and this shoe store called SOFT store of the future.
Then head back to your hotel or apartment so you can get dressed for an amazing dinner at Trattoria dall'Oste! If you love meat, order the bisteca fiorentina, and make sure you have wine and dessert. They serve you some prosecco while you wait, but you must make a reservation. Use one of these apps to reserve
Open Table
The Fork
Quandoo
Now, take a night stroll and stop by one of the bars or restaurants for a nightcap. I love the bar Volume, as they have different things at night, including comedy shows which can be very funny while drinking wine and not understanding a thing! Or a barber shop band like there was the last time we were there.
The next morning, enjoy another great breakfast and walk around the street shopping. Then it's time to head out.