Who hasn't thought of an adventurous European Summer once or thrice? Especially in Spain! The warm sunshine and glistening shorelines, gastronomical delights, and historical wonders. I can and will go on as I outline everything you want to know about visiting Barcelona in August, starting with the weather.
The Weather in Spain in August
Temperatures in the summer in Spain vary from 18 to 40+ Celsius depending on which region of the country you're in. For example, if visiting Barcelona in August, anticipate day temperatures between 28-35 degrees Celsius and nighttime temperatures around 23 degrees Celsius.
Photo by Lucrezia Carnelos on Unsplash
Packing for Barcelona in August
Everyone is guilty of overpacking. It's like we're possessed, and the ten outfits in the closet we have never worn are coming with us on this trip, and that's all there is to it! Trust me when I tell you that less truly is more.
Besides, I'm 95% sure you'll purchase a beautiful one-piece dress (or two) along the way. And quite honestly, those dresses might dominate the trip with a few well-packed accessories.
Other Fuse recommendations include healthy amounts of sunscreen and hydration while adventuring. It gets warm out there, especially the further away from the coast you travel.
Carry a refillable water tumbler to spare the unnecessary expense and hassles of excessive plastic water bottles for more reasons than one.
Lightweight, breathable fabrics such as linen or cotton will be your best friends during this time. They'll help keep you cool during the day when exploring the city's colorful streets and historical landmarks.
Don't forget a stylish hat and a pair of sunglasses to protect against the sun's intense rays.
Another crucial item to pack would be a pair of comfortable walking shoes. Barcelona is a city of incredible sights that are best explored on foot.
hether you're winding your way through the Gothic Quarter's narrow alleys or hiking up Montjuic Hill for panoramic city views, your feet will thank you for prioritizing comfort.
To further assist you with packing, here's what's lined up by way of events when visiting Barcelona in August.
Photo by Elaine Tu on Unsplash
Where to Stay in Barcelona in August
Deciding where to stay in Barcelona can make a significant difference in your holiday experience. Each neighborhood or "barrio" has its own unique charm and atmosphere.
In August, when the city is alive with various festivities and the weather is beautifully warm, consider these options:
Barri Gotic (Gothic Quarter)
If you want to stay in the heart of Barcelona and experience the city's rich history up close, Barri Gotic is the perfect choice. This neighborhood is home to several ancient buildings and narrow, winding streets that make you feel as if you've stepped back in time.
Staying here, you'll be within walking distance of famous landmarks like the Barcelona Cathedral and the iconic Las Ramblas street.
Eixample
Eixample is renowned for its modernist architecture and is home to Antoni Gaudí's most celebrated works – Casa Batlló, Casa Milà, and the iconic Sagrada Familia. Visitors can choose from a variety of accommodations, including luxurious boutique hotels and budget-friendly options.
With its organized grid-like streets, navigating the district is hassle-free, and there's no shortage of eateries, shops, and bars to explore.
El Raval
If you're looking for a bohemian atmosphere, El Raval is a great option. This neighborhood is diverse and lively, featuring a unique blend of contemporary art displays, whimsical shops, and global cuisine.
There are various lodging options available, from trendy boutique hotels to affordable hostels.
Barceloneta
If you're looking for a beach vacation, Barceloneta is the perfect destination for you. This charming seaside neighborhood offers a blend of urban living and seaside tranquility.
Wake up to the soothing sound of waves, savor delectable seafood at nearby restaurants, and partake in the vibrant beach activities. You'll find plenty of holiday rentals and hotels with gorgeous sea vistas in this locality.
Gracia
Gracia is a charming and close-knit district that exudes a strong sense of community. It is renowned for its lively festivals, unique boutiques, and diverse dining scene.
In August, the neighborhood hosts the Festa Major de Gracia, where streets vie for the title of the best-decorated, creating a stunning spectacle for visitors. Staying in Gracia allows you to immerse yourself in the genuine and laid-back atmosphere of Barcelona.
Remember, no matter where you stay, Barcelona's efficient public transportation makes it easy to explore the city and its attractions.
So choose the neighborhood that resonates with your holiday style and enjoy Barcelona in all its August glory!
Ultimate To-Do Guide: Activities Happening in Barcelona in August
Summer festivals in Barcelona
Truth be told that Barcelona in August is inundated with festivals, but there are events that I think shouldn't be missed. Starting with the most popular, the Festa Major de Gracia! A traditional and highly anticipated festival in the Catalon region is a full-on aesthetic experience.
Colorful streets throughout neighborhoods come alive for literal dancing in the streets. This event starts on August 15th and concludes on the 21st in the Quarter of Gracia in Barcelona.
Other festivals worth investigating when visiting Barcelona in August:
Circuit Festival: LGTBQ+ community event that brings an international audience to celebrate and uplift the gay community. Let the water activities begin starting on August 5-13th.
Festival MasiMas: Six Barcelona venues spread out around the city sporadically host more than 200 live concerts. It's so great it goes on for the entire month.
La Tomatina: A legendary festival of white clothing and very red tomatoes hurled at groups of willing participants at full force. This event happens on August 30th and is likely to sell out!
Were you hoping to be a tad more nautical on your Spanish adventure?
Activities on the sea in Barcelona
If sun, sand, and sea are the only three priorities of your visit to Barcelona in the Summer, then I recommend this short list of nautical activities: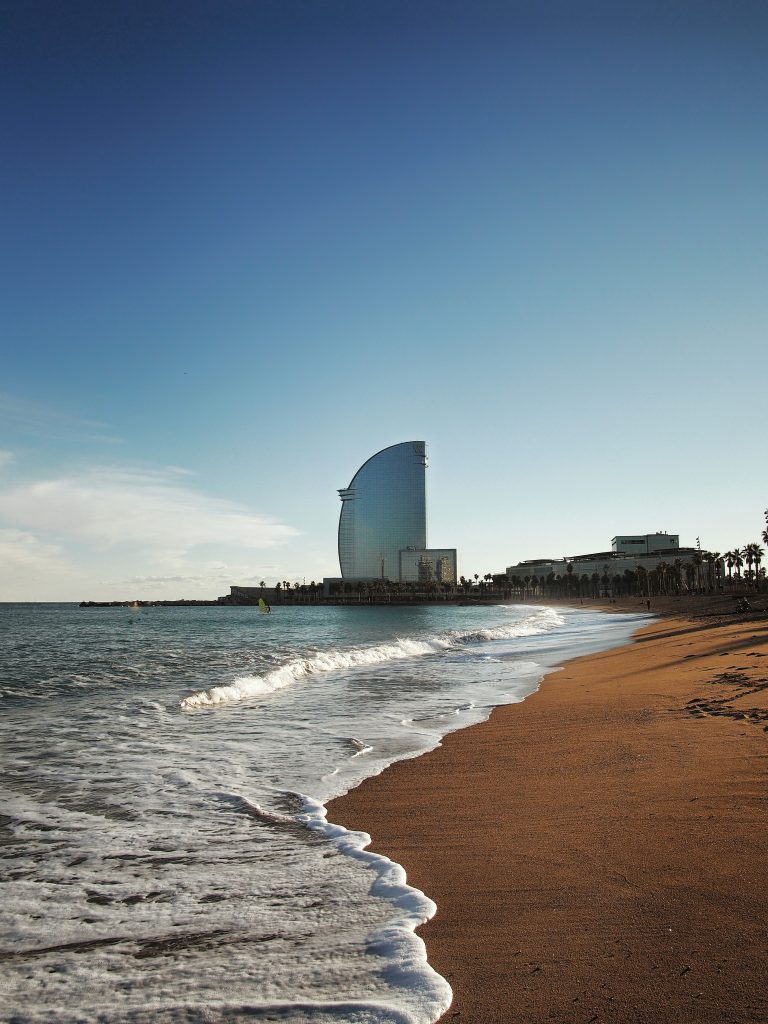 Photo by Alessio Rinella on Unsplash
Boat parties: Exactly what they sound like, parties on a boat. May they be private, in small, or large groups, boat parties are a popular activity in Barcelona in August.
Sea kayaking: The Costa Brava is where this activity can be enjoyed with breathtaking vistas (views) and sunsets to remember.
Ahoy sailor! Book a trip to learn how to sail or lay back and enjoy a bottle of wine and some tapas while enjoying the salty spray of the Balearic Sea.
Once docked, try a few of these city-based activities.
Cityscape activities in Barcelona
Once the nation's capital (the 1930s), Barcelona is prime with attractions to entertain the senses. But I am here to help you sort through them, so here is a handy list of things to do in August in the city.
I always recommend starting with a few of the world-renowned museums. Museums in Barcelona are anything but boring. There are more than 80 of them in the city. No pressure, right?
Fuse's top recommendations for museums to visit in Barcelona in August are the Museum of Modern Art, the Picasso Museum, the Museum of History, and the Gaudi House Museum.
Since it's August, why not stop at the Temple of Augustus to celebrate where the Roman Emperor of the same name once ruled? Other options include the Open-Air Cinema (Sala Montjuïc) and the Magic Fountain water shows.
More about the Spanish hot spot in Summer
Cool off from the warm temperatures with a dip in the sea or rent a bike and enjoy the windy paseo (boardwalk). Barcelona is known for its lengthy coastline, where sought-after beaches such as Nova Icaria, Playa de la Mar Bella, and Playa de Bogatell can be found.
Take a break at one of the various restaurants or cafes along the way for an ice-cold cerveza (beer) or tinto de verano (like Sangria, but better). Wash them down with some tapas of jamón, cheese, or olives while enjoying the Spanish sunshine.
Remember that nudity is part of Spanish culture on beaches, so be respectful.
Still too warm for you? Cool things down even more with a visit to Barcelona's Ice Bar. An Ice Bar near a beach might sound bonkers, but it's a cool experience — pun intended. Temperatures inside the bar go as low as -10 degrees Celsius, but protective clothing is provided with the price of admission.
The nightlife of Barcelona in August heats things back up as terraces overflow with well-dressed bodies enjoying the indulgences of life. If the club scene is more your vibe, try Club Catwalk, Opium, or Pacha Barcelona near Port Olímpic.
Photo by Mattia Bericchia on Unsplash
Pros & Cons of Visiting Barcelona in August
Like anywhere and anything, there are pros and cons to visiting Barcelona in August. Let's start with the negatives. The most obvious is the time of year, summer — the peak travel season for the European destination.
As a result, many of these events and sites might sell out. Try to plan accordingly and make reservations for accommodations and events sooner rather than later. Other significant cons about visiting Barcelona in August:
High-priced destination
Expat heavy location
Increased opportunities for criminal activity (mostly petty theft)
Positive aspects of visiting Barcelona in August:
Exquisite architecture
Historical hub
Gastronomy
Award-winning beaches
Art galore
Las Ramblas for responsible souvenir shopping
Pet-friendly city
Have you noticed that one list is longer than the other? That's because the pros far outweigh the cons. That fact should speak volumes if you're still reluctant about visiting Barcelona in August.
Navigating Transportation in Barcelona
Navigating Barcelona is a breeze due to the city's exceptional public transportation system. The metro system is the most efficient mode of travel, boasting a widespread network and frequent service.
In addition, buses are also readily accessible and offer extensive coverage throughout Barcelona, although rush hour traffic may cause delays.
If you're looking for a more exciting way to get around, renting a bicycle might be a great option for you. Barcelona is a city that's easy to navigate on a bike, with plenty of cycling lanes and rental shops.
August boasts great weather for biking, but make sure to drink enough water and apply sunblock frequently to stay comfortable.
If you're looking to explore the countryside or coastal towns surrounding Barcelona, renting a car can be a viable option. However, it's important to note that finding parking in the city can be difficult, and driving on the narrow and busy streets may not be suitable for everyone.
If you're planning a trip to Barcelona in August, it can be an incredible experience with some proper preparation.
Are you planning to travel to other parts of Europe this Summer, too? If so, check out my unforgettable guide to Italy in July or my recommendations for some of the best cafes in Lisbon, Portugal. Both countries are worth adding to the itinerary easy to get to from Spain.
Other Spain blog posts you may enjoy.
Roadtrip from Lisbon to Seville