When it comes to traveling to Italy, transportation and getting around is always a topic that comes up. Should you take the train? Is it easy to take public transportation? What about driving in Italy? Is driving in Italy worth it? What side do they drive in Italy? You may have seen some very curvy streets in Italy or wondered about driving a Vespa with the breeze of the Tuscany air on your face. So, let's talk about driving in Italy as an American tourist.
Speed Limit in Italy
Oh, the pleasures of driving in Italy! The winding roads, the breathtaking scenery, the thrill of the open road… but wait, don't forget about the traffic laws! It's critical to pay attention to speed limits in Italy. They may not always be clearly marked, but the fines for speeding are anything but leisurely. So, keep your footlight on the pedal and stay within the speed limit, which is usually 130 km/h on highways and 50 km/h in cities.
Remember that Italians drive on the right side of the road, and passing on the right is strictly prohibited. And, if you happen to come across one of the country's infamous roundabouts, don't forget to take pictures.
requirements for driving in Italy
If you have a driver's license in the USA, then you can drive in Italy! However, it is strongly recommended that you obtain an International Driving Permit. It is cheap and easy to obtain, so avoid the headache of possibly being stopped in Italy by a police officer.
Where to Get the International Driving Permit
We have been to Italy five times, and in all those visits, my husband has driven. We learned that you can obtain this International Permit at the AAA office. You can also do it by mail.
In-person application:
First, download the application form here. Then, head to an AAA office near you. It costs $20, and you will need:
Completed application
2 passport-size photos
Show a valid US driver's license
Copy of your valid US driver's license front and back
The permit is valid for one year, and it's 100% worth it.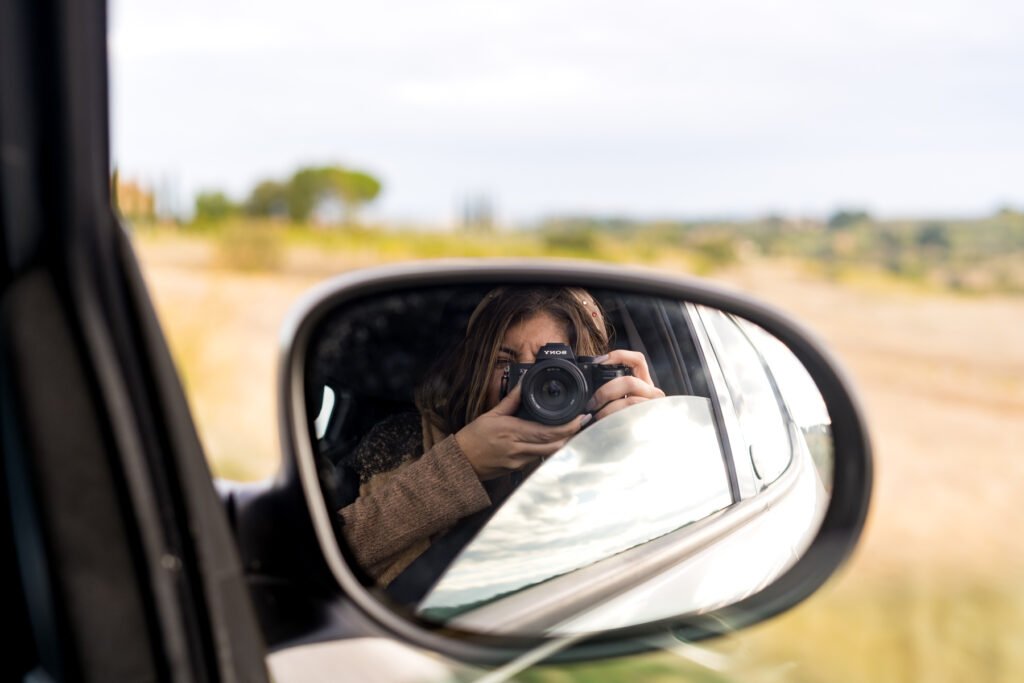 Where are good places to drive in Italy?
Driving in Italy is not for the faint of heart! I can't do it, but luckily I have a husband who is a terrific driver. However, even he got a little scared on our most recent trip. So, here is my advice if you wish to drive throughout Italy.
First, it depends on your itinerary and what you wish to do. If you are heading to, let's say, big regions like Rome and Florence, then a train will suffice. However, if you wish to visit small towns, a car is very recommended. One of our favorite things to do as a couple in Italy is to go on a road trip and stop by the more local towns. You can see some of these towns in my other blog post, 7 Romantic Things to Do in Tuscany. So I love driving to Tuscany because we can take the Autostrada, I do not like driving in Southern Italy.
Is It Worth It to Drive in Italy?
This will depend again on what do you want to do and how many people are traveling with you. One thing to also keep in mind is budget. One time, my husband and I had to go to Naples, and when we checked the price of the train tickets versus renting a car, renting a car was cheaper. But to our big surprise, the gas was diesel and cost an extra 70 euros to fill the tank, so it wasn't a smart idea. We should have taken a train from Termini to Naples. Sometimes it is more affordable to rent a car if you have more people traveling with you.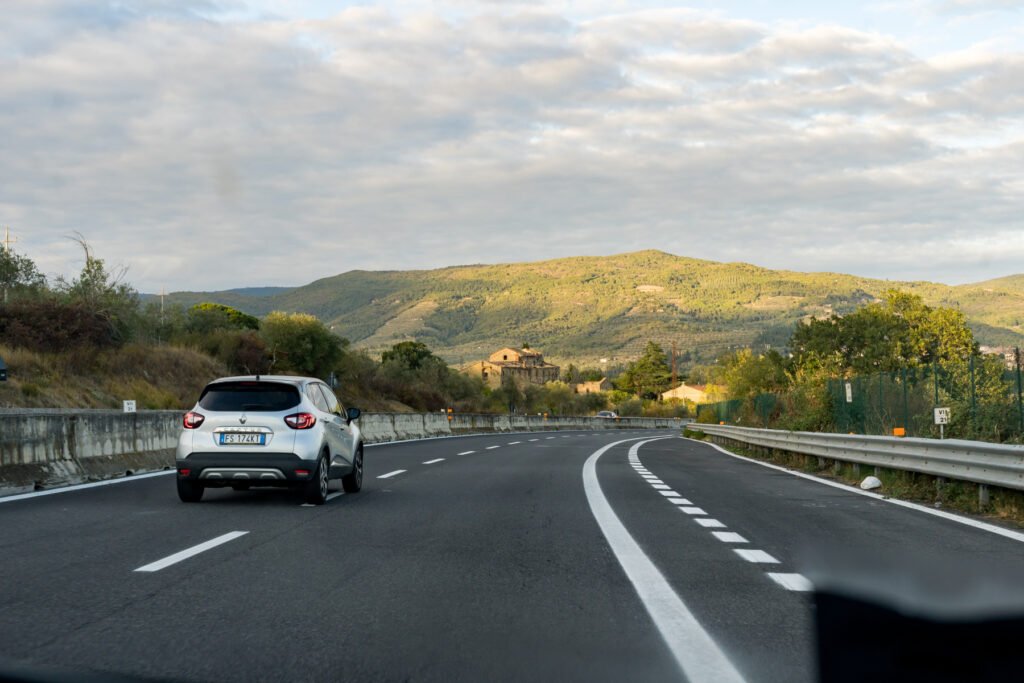 Is driving in Italy difficult??
The short answer is yes! First off, the roads are super narrow, and many places don't even let active drivers go there, so driving inside smaller towns can be challenging. We just went from Rome to Florence in March, and we noticed that this time around the Autostrada felt a bit unsafe. There were so many trucks. So, you have to be an extremely diligent driver.
Once we got to Florence, we had to put the car away, as there were no car zones there, so we kept it in a garage. So, that is another thing to keep in mind. Driving in Italy is more for doing day trips and going from one place to another, and not to driving inside the area where you stay.
People also drive a bit crazy there, and you will see that almost all the cars have scratches. We have seen some weird things with the buses while they are driving there as well, so overall, it's just super different than driving in the US.
Additionally, many of the cars are stick shift, and they're also mostly diesel, making gas expensive.
Tolls in Italy
When we rented the car in Italy, we were not informed about the tolls. We took cash with us, but then we realized we didn't have change. When we stopped at the toll booth to pay, we saw that some said "Carte," which I deduced meant we could pay by credit card, so we paid our tolls by credit card. It was about 19 euros to go from Rome to Florence.
From Rome to Naples, it's about €15.80.
Does Italy drive on right or left?
I am happy to report that they drive on the same side we do, so the right side.
Driving in Southern Italy
3 years ago, we did a trip to Italy that consisted of a few days in Rome and the rest of the trip in the South. We stayed in Sorrento, and we took the bus to the Amalfi Coast. Let's say it was one of the scariest things ever! My husband is afraid of heights, and you see the cliffs with no barriers, and the bus goes fast on these curvy roads that sometimes become single lanes. It was insane. My husband had a panic attack and sweated so much. When the trip began, he said he would feel way more comfortable if he was driving, but I honestly don't want to take that risk either. I hope to go back to Southern Italy one day, but we will not be driving. I am hoping to take the boat everywhere.
Parking is also very difficult there, so you will have to pay for a garage to keep your car, which costs about 30 euros a day.
Where to Rent a Car in Italy
Most of our rental cars for Italy have been rented through the Expedia website. We have also used the Booking dot com website. We have used Hertz, Sixt, Avis, and the last one was Escovia. The funny thing about rental cars in Italy is that you will always find really bad reviews, but we have never had a bad experience, per se. 
We did rent a super tiny car once that was all scratched, so here are some tips for renting a car in Italy:
Get your International Driver's Permit before arriving in Italy
Use a third-party website that gives you some kind of guarantee, or book directly with the rental company
Make sure you understand the info in regards to insurance, gas and mileage
Triple-check the car you are requesting, as they can be very small, and you want to make sure it will fit the luggage you need.
Take photos of the car, especially if it has a lot of scratches.
Take a photo of how much gas is in the car, because the last car we got had barely any gas in it.
Ask how to open the gas tank, because it took us 5 minutes last time to figure it out, lol. We had to turn off the car, if you were wondering.
Always check if there is parking at your hotel or Airbnb. If not, ask for garage recommendations.
Check garage pricing beforehand.
Check what time the garage opens and if you need a reservation beforehand.
Check if there are any deposits that they will hold on your credit card.

Overall, I only recommend driving if you are stopping by smaller towns and not keeping the car at your destination. The best times for us to drive have been when we take the car and drop it off, even though that can be pricey!