It took a few years before my husband and I took our kids to Italy. Partially it was due to finances; budgeting for Italy for 2 people versus 5 is a big difference. We knew we would take them eventually since, after all, Italy is our soul place, and I am so glad we did! If you're looking to plan on traveling to Italy with kids, then check out my tips.
Do Kids Need Passports To Go To Italy
Anyone traveling to Italy by plane, boat, or vehicle will need a passport. This also includes children! It is very important that you check everyone's passports before booking your trip, as the passport can not be set to expire less than 6 months past your travel date. If you are applying for a passport for the first time, or if you need to renew your passport, check out the U.S. government's website.
Is Italy a Good Place to Visit with Children?
I am a bit biased, but I absolutely think that Italy is a wonderful place to take children. It is a very affordable European country, making it easy to book family vacations, and there are so many activities that kids can enjoy. Kids will love the castles, gelato, pasta and chocolate, and wandering around seeing the amazing architecture. Italians do many things outdoors with their kids, which is cool to see. You will find kids at piazzas, restaurants, and museums, so it's evident all around that Italy is very child friendly.
How To Find Flights To Italy For Families
The best tip I have for booking flights to Italy for several people is to check out bundle package deals vs. solo bookings. When booking a package deal, I recommend you add a few days to the hotel when checking for flights. This is best done on Expedia or Booking.com. I have found this helps with savings and even finding the best flights. One time, the only way I saw a direct flight to Italy was by doing a bundled search. Don't forget to tick off the box that states that you will need accommodations for only part of your journey toget flexibility to use Airbnb and other types of accommodations.
One important thing to note is that hotels in Italy are older, and therefore rooms tend to be smaller, which means you may need two rooms instead of one. The solution for this is to book apartments instead of hotels, and you can easily do this on Booking.com and Expedia.
How To Prep for the Long Flight
Direct flights rock! If you can't score a direct flight, aim to book the shortest trip possible without long layovers. The fewer connections you have, the smoother your Italy vacation will be, as kids can get very cranky. For international flights, you must arrive at the airport at least 2 hours before your flight time. For some airports, they even recommend 3 hours. Since we now have Global Entry, I arrive about 2 hours before. Ensure you have snacks and activities for kids while they wait for the flight. If you can book the row that faces the front wall, this allows for more space for you and your kids. The extra money will be well spent, trust me.
Next, think about the flight time and your kids' sleep schedule. Some parents like to take some tea for their kids during the flights and other things to calm the babies and kids. For older children, I love Olly sleepy gummies. Take extra blankets, toys, etc. The best trick for earache during take-off and landing is to blow out air. I learned this from a flight attendant, and it has been a game changer. Some adults also love EarPlane earplugs and swear by them. Check out my blog post on Italy for Teens.
Most likely, you will arrive in Italy in the morning, and you will want to fight off falling asleep. This won't be as easy for your kids, especially if they are small. I would leave room for flexibility with this, as your room will probably be ready only in the early afternoon.
Bonus tip – Message your accommodation ahead of time and ask for early check-in.
Which part of Italy is best for Families
Italy is a diverse country with so much to see! I think the answer will depend on what you love to do as a family. For example, the Tuscany region is known for its romantic hills, wine, and food, but it can also be great for kids and teens. There are natural springs, horse riding, and many cool medieval towns to explore. If you are visiting Italy for the first time, I recommend you visit Florence in Tuscany, but also head to Rome. These walkable cities have attractions for kids of all interests, from amazing castles and fountains to gladiator school to an amusement park and an art sketching mini tour. I would avoid the South because it can be a bit harder to get around due to the hills and traffic; I would also probably avoid Cinque Terre with small children. So, my vote is Tuscany and Rome.
Italy Tours For Families
Deciding on the activities that you will do while on your family vacation in Italy will be the biggest part of your vacation planning. For this, I recommend you think about your style of travel, where you will be going, and your kids' personalities. For my kids, who are teens, I asked them what they wanted to do on the trip, so I made sure I chose activities that would make each one happy. This proved to be one of my best decisions, as we had a 12-day family vacation with no drama or hiccups. Some activities that I think can be fantastic are:
Cooking class
Rome sketching tour
Gelato tasting
The Colosseum
Visiting a hot spring
Throw a coin in Trevi Fountain
Row a boat or ride a bike through the Borghese Gardens
What to do with Kids in Rome
Since Rome is such a walkable city with so many jaw-dropping sites, it is a wonderful place to take kids. From small kids to teens, Rome is a feast for the eyes. If you are looking to save money, I recommend you check out the Rome Pass. This will allow you to get some free entrances to museums and give you more options on what to do. Here is my top list of what to do with kids in Rome.
Visit the Colosseum, but book a skip-the-line tour that is aimed at kids. When we last visited, we saw these small kids doing a treasure hunt, and I thought it was such a great idea.
Eat gelato and sweets. The bakeries in Rome are fantastic. One of my favorites is in the Monti neighborhood and is called Don Nino Gelateria.
Book a cooking class. I would look for an easier cooking class that is geared toward children.
Rome sketching tour. We booked this for my son, and it was fantastic. Kelly is American and has lived in Rome for years. She gifts a small sketchbook and draws and paints during her tour. She doesn't walk too far, so it's great for kids as well.
Visit the Pantheon. This is free, and kids love looking up at the big hole in the ceiling. Also, stop by the water fountain outside of the Pantheon and eat a snack that you can buy from the nearby Salamueria.
Visit one of Rome's great parks. Rome is filled with outdoor attractions, including outstanding parks. Mama Loves Rome shares the top parks in Rome.
Visit VIGAMUS, the Video Game Museum of Rome, for game lovers in your family. It's an interactive experience that displays the history of video games.
Visit the Leonardo Da Vinci Museum, which features many of his inventions.
Visit the Wax Museum if your kids love pop culture
Go to Rainbow MagicLand. It is an amusement park outside of Rome. Check their calendar on their website, as they're not open year-round.
Attend Gladiator School. This is a great Rome kid-friendly activity for both boys and girls.
Watch a soccer game. There is just something about soccer games abroad. There is so much fun energy, and it will create an epic moment.
Visit the Vatican Museum. This is at least a two-hour tour, but you can take a break at the gardens. It was my husband's and my favorite tour, as each exhibit is so different from one another. It is a great way to share some history with your kids. Book the skip-the-lines tour, which will help make it a smoother trip.
Visit the fountains. Rome has so many cool fountains that kids will enjoy discovering. I love the ones at Piazza Navona in particular.
Eat pizza at a piazza. Piazzas in Italy are lively, and often they have vendors selling toys, lights, and more for kids. You can enjoy a pizza & beer while your kids have fun.
Baths of Caracalla. This is not as popular of a tour, but I think it is perfect for kids as they give you these visor goggles so you can view in 3D how this center for sports and swimming was back in its glory days.
For cat lovers. Visit the Rome Cat Sanctuary. According to Free Tours by Foot: "It is Located at Largo di Torre Argentina, a site near the location where Julius Caesar was killed. These ruins have since become home to a colony of cats."
Visit Castello San Angelo, or just walk around it and take photos on the bridge. They also have a lot of street vendors selling kid-related souvenirs and toys.
Attend a concert or festival. Check out concert dates on Google to see if your kid's favorite singer or band will be in Italy during your stay.
Throw a coin in the Trevi Fountain. Kids love doing this as they also get to make a wish. It can be super crowded, so I recommend you go early morning to beat some crowds and allow your kids to walk around the fountain.
Go shopping! Rome has a lot of toy shops, including a Pinnochio shop, luxury shops, and also comic book shops. There is truly something for everyone in your family.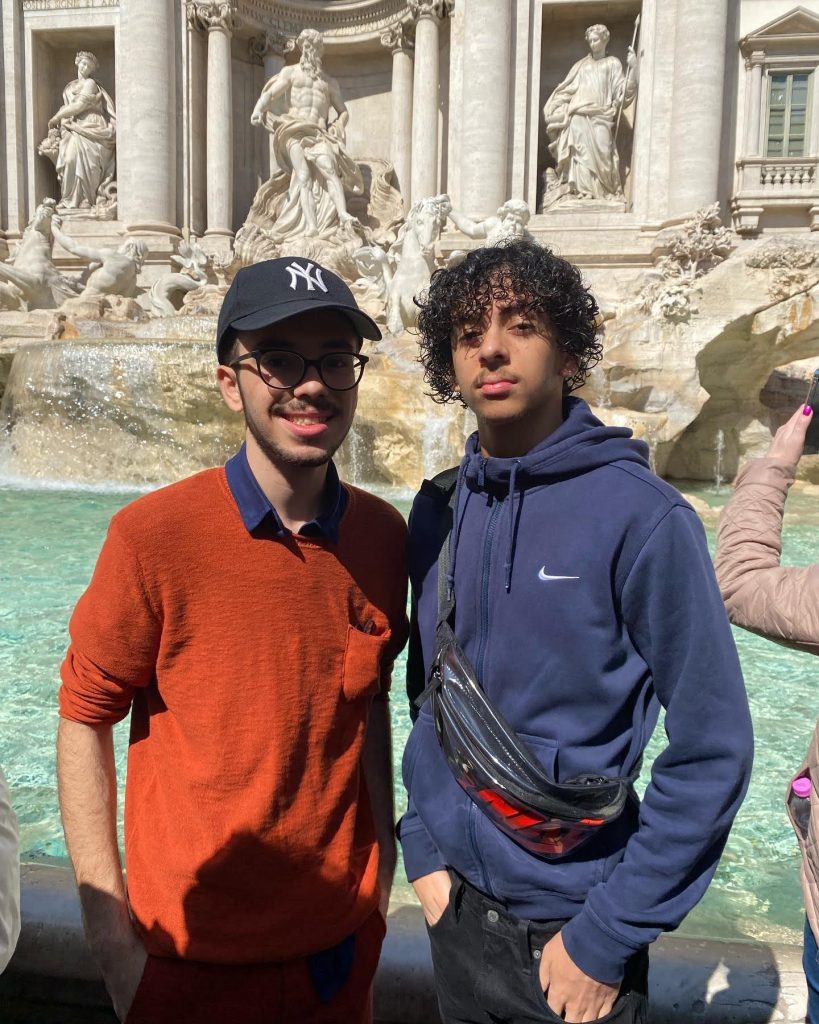 What to do with Kids In Tuscany
Florence is a great destination for children and one I recommend to definitely have on your list if traveling with kids, but I really want to emphasize the whole Tuscany region. Tuscany offers kids picturesque scenery and contact with nature. This helps break the hustle and bustle of big city life, like in Rome, and in my opinion, this allows for kids to be more relaxed. Here are my top things to do in Tuscany for kids.
Stay at Podere Val d'Orcia to ride horses, eat incredible food, and attend a spa service. The customer service of this place is out of this world! I wasn't able to stay there, but their wonderful customer service shared the following info with me.
At Podere Val d'Orcia, you can try extraordinary experiences and activities: authentic Tuscany experiences. We also suggest an advance booking for it.
EQUESTRIAN EXPERIENCES
For horse riding activities, we inform you that the instructor will have to ascertain the experience level of each rider with a compulsory initial lesson. It is possible to book a 1-hour riding lesson with an instructor for 40 euros per person, or a walk lasting 1 hour for 40 euros per person, or a longer walk lasting 2 hours for 70 euros per person. It is also possible to make nominative subscriptions for a total of 10 hours for 300 euros per person.
Other activities bookable in advance:
• Cooking class
• E-bike tours or E-bike rentals. E-bike rentals, full day, € 55 per person. Half day (4 hours) € 40 per person.
• Visit a nearby farm just a few minutes away by car, where your children could come into contact with numerous animals (chickens, rabbits, cows, etc.). The visit costs 30 euros per person for adults and 20 euros per person for children and includes a typical snack with Tuscan bread, ham, and local cheeses, accompanied by a glass of their own wine for adults and fruit juice for the kids.
• Photographic Safari of the Val d'Orcia, where you will be accompanied aboard our off-road vehicle to discover the most beautiful and hidden places of this Unesco Heritage area (cost per person, € 25 – duration approximately 2 hours)
• Oil and Wine Tasting
I mean, how can you pass up on the above? Just remarkable!
Siena with Kids
Siena is like a magical medieval town. It is surrounded by a wall, and you park your car on the street, then ride a few elevators to find the stunning town up on top like a hidden treasure waiting to be discovered.
Visit the main piazza, which is massive and so cool to see.
Wander around the alley streets for sightseeing.
Visit the gorgeous cathedral.
Eat at All'Orto de' Pecci which is located inside a beautiful garden in the middle of medieval Siena.
Visit a Hot Springs in Tuscany
My husband and I have done this 3 times and always love it! For one, most of them are free. Two, it's just fun to find them, and three, it can be super relaxing. The most popular one is Terme de Saturnia, but this was the one I disliked the most. I'm not sure if it was the time of year that we went, but two couples were majorly making out, the water wasn't as warm, and the volcano water made my Pandora bracelet black. The other natural springs we visited and liked:
Chianciano Terme. This one is a paid spa with 2 locations. We visited the simpler one, Piscine Termali Theia, and didn't do spa treatments. It cost $17 each, but we had to use a head cap, so we had to purchase that as well. There are several indoor pools and outdoor pools, and a restaurant. You may want to check out the prices on their entire catalog of services. It was a super relaxing day. We stayed at the amazing Hotel Lory, and you can learn more about our Tuscany adventure here.

Hot springs at Bagni San Filippo. This the one that we visited with our kids. It did take us out of our way when traveling from Rome to Florence, but it was loads of fun. We parked on the street and headed down this small hiking path in order to arrive at the big white walls of this thermal bath. The waters are very hot, and there is a certain smell in the air when you arrive due to the minerals in the volcanic water. We had a blast. There was this great food truck near the entrance to the highway where we ate some great burgers, to round out the experience.
Please note, always take towels, a change of clothes, and flip-flops when visiting any thermal water in Italy. We learned this the hard way.
Florence With Children
Florence is charming and magical. I mean, there is a merry-go-round right inside one of the piazzas, which you should definitely take your kids to. You can book some affordable and cool-looking Airbnb. Our favorite neighborhood there is Santi Espirito. I don't recommend staying near the train station, as that is further away from everything. Here are some great things to do in Florence with kids.
Ride the merry-go-round at Piazza della Repubblica.
Shop at Zara Kids.
Watch the sunset at Piazzale Michelangelo.
Visit Uffizi Gallery and eat at their delicious snack bar at the end. It has incredible views of the Palazzo Vecchio.
Visit the Palazio Vecchio, as they have a tour for kids.
Book a Florence sketching tour.
Buy sketchbooks and visit art stores.
Visit Ponte Vecchio for photos and epic views.
Walk around the Duomo. It is great for photos. I don't recommend doing the top floor tour with small kids, as there are many steps to take.
Visit the Library, especially on a rainy day. According to Learning Escapes:
Explore Biblioteca delle Oblate (library): Florence's best toddler-friendly activity for a rainy day. Not far from the Duomo, it is worth seeking out the Biblioteca delle Oblate. This library is a great spot for kids, thanks to a large children's section (age 0-14 years old) with books, games, and activities. This is a beautiful spot to know if visiting Florence with a toddler and for a rainy day.
Eat at Mercato Centrale. This famous food market has so many options. From mouth-watering burgers to vegan dishes and Italian pastries, this is a must-stop while in Florence.
Take a boat ride on the Arno River.
Watch the famous puppet show at the theater Pupi di Stac.
Visit the Florence Planetarium.
Go for a picnic at the world-known Boboli Gardens.
For the adventurers, venture out for a day trip to Canyon Park, or Parco Avventura il Gigante, where you can zipline and kayak.
Take a painting class at Palazzo Vecchio Museum.
La Specola museum is temporarily closed for renovations, but keep an eye out for its reopening.
Do a treasure hunt on your own. Stop by the Museo di Palazzo Vecchio and ask for the scavenger hunt for kids.
Make a day trip to Lucca and visit the walls. Kids love this.
Visit Collodi a town near Lucca which has a Pinocchio Park.
Make a day trip to Pisa.
Eat at Trattoria dall'Oste, our favorite restaurant. (They have great desserts, too.)
Grab the famous biscotti. This biscotti is outstanding!
Overall, Italy is magnificent for children of all ages. Here are some other blog posts that can help you plan your Italy family vacation.
Considering visiting Asia?, check out Phuket with Kids.