Last year my Instagram was filled with dreamy Italian summer posts and reels. Everyone was in Italy in June, which will be no different for 2023.
What can we expect from traveling to Italy in June this year? Let's find out!
Table of Contents
Book Your June Italy Trip in Advance
If you plan on visiting Italy in June, booking your airfare and lodging as soon as possible is important. June is one of Italy's busiest months for tourism, with millions of visitors flocking to the country to enjoy the warm weather, stunning beaches, and cultural attractions.
Delaying your booking can lead to a scarcity of available options and higher prices. To ensure you get the best deals and can stay in the accommodations that fit your preferences, it's essential to book your airfare and lodging early.
In addition, I recommend that you book as many attraction tickets ahead of time too. The main attractions have dedicated time slots which limits the number of people that can enter on a daily basis, so don't miss out.
Furthermore, book your restaurant reservations before you leave for your trip.
Weather in Italy in June
June is a beautiful time to visit Italy as the weather is generally warm and sunny but not as scorching hot as it can get in July and August. In most parts of the country, the average daytime temperatures range between 22-28°C (72-82°F), making it perfect weather for outdoor activities and sightseeing.
Define what hot means to you as well. I am typically always cold, so June is a good month for me, but it may be too hot for some visitors.
The weather can be a little cooler and occasionally rainy in the northern regions, like Milan and Venice, while it can be more humid in the southern areas, like Rome and Naples.
Checking the local weather forecast before your trip is always a good idea, especially if you intend to travel to higher altitude regions where the temperature can drop at night.
Weather in Rome in June
In June, the weather in Rome is hot enough to cook an egg on the sidewalk (but please don't try this). You can expect plenty of sunshine and high temperatures during the day, so it's essential to stay hydrated and slather on the sunscreen.
But don't worry, the evenings can be quite pleasant and perfect for sipping a spritz or enjoying some gelato as you take in the beauty of the Eternal City.
Just remember to pack light and bring your favorite pair of sunglasses, because you're going to need them!
Best Places To Visit in Italy in June
Where to visit in Italy in June will depend on what you like to go and also your heat resistance.
I personally recommend visiting Southern Italy if traveling in June, but avoid tourist traps.
Southern Italy
Places like Capri, Positano and The Almafi Coast will be expensive during this time, so it is wise to stay in smaller beach towns where you can grab a ferry.
Some towns I recommend are:
| Destination | Region | Description | Website (if applicable) |
| --- | --- | --- | --- |
| Vietri sul Mare | Campania | A charming seaside town known for its colorful ceramics and beautiful beaches. | www.comune.vietrisulmare.sa.it |
| Cetara | Campania | A quaint fishing village known for its delicious anchovy-based cuisine and beautiful beaches. | www.comune.cetara.sa.it |
| Praiano | Campania | A quiet town with stunning coastline views and access to beautiful hiking trails. | www.comune.praiano.sa.it |
| Atrani | Campania | A charming village with narrow streets and a beautiful beach, just a short walk from Amalfi. | www.comune.atrani.sa.it |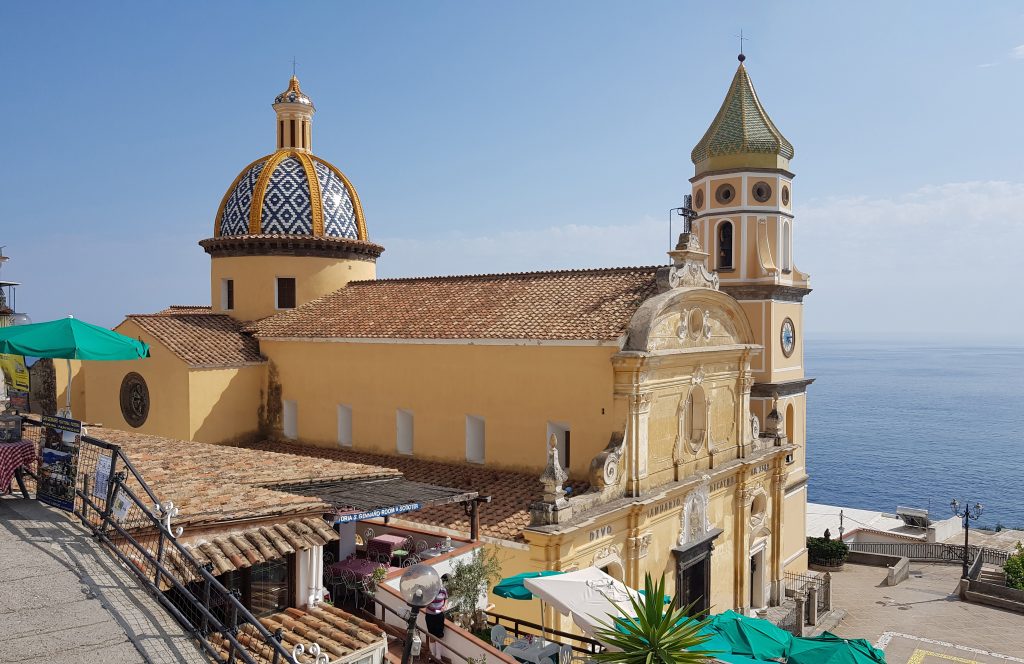 Sicily is a fantastic destination in June as well. It is the largest island in the Mediterranean Sea, and Sicily is known for its beautiful beaches, ancient ruins, and delicious cuisine.
You can take advantage of the pleasant weather, explore historic locations like the Valley of the Temples and the town of Taormina, and savor the regional cuisine in June.
Lesser Known Southern Cities to Visit
Matera: Located in the Basilicata region, Matera is a unique town known for its ancient cave dwellings and historic center. In 2019, Matera was named the European Capital of Culture, and it has since become a popular destination for travelers.

Despite its growing popularity, Matera remains a relatively affordable destination compared to other Italian cities.

Tropea: Tropea is a beautiful seaside town in the Calabria region, known for its stunning beaches, historic center, and delicious cuisine.

It's a popular destination for Italians but not as well-known among international travelers, making it a more affordable option.

Otranto: Otranto is a charming town in the Puglia region, known for its beautiful beaches, historic center, and picturesque harbor.

It's a popular destination for Italians but not as well-known among international travelers, making it a more affordable option.

Cilento: Cilento is a beautiful region in the Campania region, known for its stunning coastline, picturesque villages, and beautiful national park.

It's a less touristy destination than other parts of Southern Italy, making it a more affordable option.
Northern Italy in June
Portofino is one of the cities in northern Italy that is on my bucket list! The region of Portofino would be great if you wanted to avoid some of the South's crowds and enjoy milder weather.
Staying in a more reasonably priced nearby town is a great idea if you want to visit Portofino in June. The Italian Riviera's Portofino is a small, charming fishing community renowned for its vibrant architecture, lovely harbor, and breathtaking views.
Even though Portofino is a well-liked tourist destination, lodging there can be quite pricey, especially during the busiest travel times.
One choice is to stay in Santa Margherita Ligure, which is close by and only a few kilometers from Portofino. Santa Margherita Ligure is a quaint town with a lovely harbor, vibrant buildings, and a wide selection of stores and eateries to discover.
It is less expensive than lodging in Portofino itself, and it provides quick access to Portofino via bus or boat.
Another choice is to book a hotel in Rapallo, which is a little further away from Portofino but still easily accessible.
The larger town of Rapallo has a long promenade, a charming old town, and a lot of lodging and dining options.
In addition to being more reasonably priced than lodging in Portofino, it provides simple access to nearby cities like Genoa, Camogli, and Santa Margherita Ligure.
What to Pack for Italy in June
What I love about traveling in the summer is that we get to pack fewer bulky items. This also increases our chances of flying with only a carry-on.
Crazy? Too soon? Okay, I always check a bag when I travel to Italy, but packing for the summer is far superior.
Lightweight Clothing: Italy can be quite warm in June, so be sure to pack lightweight clothing such as t-shirts, shorts, dresses, and skirts. Bring comfortable walking shoes for sightseeing and sandals for the beach.

Sun Protection: The sun can be strong in Italy, so it's important to pack sun protection such as sunscreen, sunglasses, and a hat. If you plan to visit the beach, bring a swimsuit, a cover-up, and a beach towel.

Layers: While it can be hot during the day, temperatures can drop at night, especially in higher altitude areas. Pack a light jacket, a sweater, or a scarf to layer up if needed.

Umbrella: June is also when Italy occasionally experiences showers of rain. In the event of unforeseen rain, an umbrella or a raincoat can be useful.

Don't forget to pack a camera or a smartphone to capture the breathtaking views of Italy. If you want to be able to charge your electronics, don't forget to pack a travel adapter.
What to wear in Italy in June
Your activities will determine what you should wear a lot. Will you be spending more time at the beach or will you be exercising a lot?
The most important thing is to wear comfy walking shoes. This refers to my white Adidas tennis shoes or my white Vert shoes. Along with flip flops, I'll bring a white wedge sandal for the evening.
I dress comfortably for the day by donning a tank top or t-shirt with shorts. Because I easily get cold, I always bring a lightweight cardigan.
You can read more about how I choose my outfits based on the daily activities in my blog post, What to Pack for Italy.
I also bring along a few dresses in various lengths, from short to midi to even one long dress. I also bring adorable rompers that are simple to style.
A crossbody bag and fashionable sunglasses are essential.
Things to do in June in Italy
There are many things to do in Southern Italy in June, depending on your interests and travel style. Here are a few suggestions to consider:
Enjoy the beaches: Southern Italy is known for its beautiful coastline and stunning beaches. Whether you prefer quiet coves or lively resort towns, there are plenty of options to choose from.

Explore the countryside: Southern Italy is also home to beautiful countryside and picturesque villages, where you can experience the local way of life and enjoy the natural beauty of the region.

Visit historic sites: Southern Italy has a rich history, and there are many ancient sites to explore, including Greek temples, Roman ruins, and medieval castles.

Sample the local cuisine: Southern Italy is known for its delicious cuisine, including fresh seafood, handmade pasta, and flavorful sauces. Be sure to sample the local specialties and try out the local wine.

Attend local festivals: Southern Italy is home to many festivals and celebrations throughout the year, including in June. From religious processions to music and cultural events, there are many opportunities to experience the local traditions and have fun with the locals.

These are just a few suggestions of the many things to do in Southern Italy in June. Depending on your interests, there are many other activities and experiences to enjoy, so be sure to do your research and plan ahead to make the most of your trip.
June Holidays and Festivals in Italy
Republic Day (Festa della Repubblica) – June 2: This national holiday celebrates the founding of the Italian Republic on June 2, 1946, after the fall of the monarchy. It is marked by parades, ceremonies, and other festivities.

Feast of Saint John (Festa di San Giovanni) – June 24: This religious holiday is celebrated in many parts of Italy, especially in Florence, where it is one of the biggest events of the year. The celebration includes fireworks, parades, and other festivities.

Infiorata Festival – Early June (date varies): This flower festival is held in many towns and cities throughout Italy, with the most famous one taking place in the town of Genzano. During the festival, the streets are decorated with intricate designs made out of flower petals.

Estate Romana – June to September: This series of cultural events takes place in Rome throughout the summer, with concerts, theater performances, art exhibits, and other activities taking place in various venues throughout the city.

Festival of the Two Worlds (Festival dei Due Mondi) – Late June to early July: This arts festival takes place in the city of Spoleto, in Umbria, and features performances by artists from around the world, including music, theater, dance, and visual arts.
| Festival/Holiday | Date | Location | Website (if applicable) |
| --- | --- | --- | --- |
| Republic Day (Festa della Repubblica) | June 2 | Nationwide | N/A |
| Feast of Saint John (Festa di San Giovanni) | June 24 | Florence (and other locations) | N/A |
| Infiorata Festival | Early June (date varies) | Genzano (and other locations) | www.infioratagenzano.it |
| Estate Romana | June to September | Rome | www.estateromana.com |
| Festival of the Two Worlds (Festival dei Due Mondi) | Late June to early July | Spoleto, Umbria | www.festivaldispoleto.com |
is it a good idea to visit Rome in June
Is there ever a bad time to visit Rome? Due to the extreme crowding and heat, July and August can be challenging.
Rome is a popular destination in June and with good reason. There are numerous events and festivals happening throughout the month, and the weather is typically warm and sunny.
However, it's also one of the busiest travel seasons, so popular attractions might be crowded and hotel and flight costs might be higher than at other times of the year.
June can be a good time to visit Rome if you don't mind crowds and are prepared to book your accommodations and activities ahead of time. All you need to do is be ready for high temperatures and humidity, and make sure to pack plenty of sunscreen and water to stay hydrated during the day.
You might want to think about going to Rome in the shoulder season, like April or May, or in the fall months of September and October, if you'd rather avoid the crowds and don't mind cooler temperatures.
These seasons often have fewer tourists and more pleasant weather for outdoor activities like sightseeing.
Overall, June is a doable month to visit Italy, but do not over do it. Don't plan on going to too many places because the heat can work against you.
Check out Visiting Italy in May.