Visiting Portugal and Spain in 2023
We just got back from an epic family vacation where we did the Lisbon to Seville drive! It was an easy drive with barely any traffic. Once we faced a crazy car rental experience, we were off for a great day. For Portugal, we stayed 4 days in Lisbon and did 1 day in Evora.
If you are planning your Portugal & Spain vacation, then I recommend the Lisbon to Seville drive! In Spain we stated in Seville but did a day trip to the historic city of Cordoba
We admired the stunning architecture, tried out the delicious local cuisine, and immersed ourselves in the rich culture of these destinations. We also had activities planned, such as visiting iconic landmarks and taking in the breathtaking views from the top of some of the highest peaks in the region.
Table of Contents
How Far is Portugal From Spain
The distance between Portugal and Spain varies depending on the specific locations being compared. However, the distance between the closest point on the border of the two countries, the international bridge of the Guadiana River, is approximately 217 kilometers (135 miles). The distance between the capital cities, Lisbon, Portugal and Madrid, Spain is approximately 645 kilometers (401 miles).
Renting a Car From Lisbon To Seville Drive
We opted to drive to Seville instead of taking the train because we saw it was only a 4-hour drive. This also would allow us to stop by a coastal city on our way to Seville. We rented the car via Expedia and used the Sixt car rental agency once again.
In order to rent a car in Portugal or Spain, you will need to have an international driver's permit. So before leaving for our trip, my husband went to renew his driver's permit at our local Triple AAA office. Since we are members, we only paid $20 for it. They take your photo, and it lasts for a year.
We decided to pick up the car in Lisbon instead of the Lisbon airport in order to save on transportation from the apartment to the car rental office. We dropped off the car at the airport on our way back to our pick-up and drop-off location were different.
What Car Should You Rent for Your Lisbon to Seville Drive
Well, we thought the car would be big enough for us, but we were wrong. So when considering driving from Lisbon to Seville, think about the type of car you will need. Answer this:
How many people will be with you?
How much luggage are you taking?
Which city will you be driving to? Big city or small?
Do you know how to drive stick as most cars are in stick and automatic cars drive more
Since driving in Europe is not new for us, we knew we had to take less luggage. Nevertheless, the luggage almost did not fit. The car we ended up with was a Peugeot SUV which we thought would be big enough.
Picture this. A family of five trying to stuff the rental car like Thanksgiving stuffing while everyone else watches. I thought they would bring out the Michael Jackson Thriller popcorn. It was embarrassing, but thanks to some Tetris husband moves, we made it happen.
So when choosing your car when booking your rental, triple-check. Additionally, consider the roads in Europe are narrow and small. They are scary at times, especially in smaller cities.
Portugal to Seville Tolls
We did not tell the car rental company we were going to Spain as they did not ask. In addition, we had unlimited miles, so it should be fine. The cars do come with the toll adaptor equipment, and you get charged for the tolls after.
We booked private transportation from the airport to our apartment on our first day, and this driver warned us about the tolls. There were dozens of tolls when driving in Portugal, but since the all the cars now come with the toll equipment device, we did not have to stop.
You need to go on the lane that says:
Once we crossed over to Spain, which by the way, there is no official border, the tolls pretty much ended.
Driving from Lisbon To Seville Considerations
One thing we did not plan for was the time zone change! Since it is relatively close, I didn't expect Spain to be one hour ahead. So when planning your road trip, double-check the time zones and time of year.
We knew that neither Portugal nor Spain had had their daylight savings time yet, even though it had already happened in the US. Daylight savings times in Europe happen at the end of March.
Safety is important, so I always suggest only drivers who are very good at driving in Europe. I can see myself driving on the major highways from Lisbon to Seville, but not in the smaller cities.
Watch out for the rest stop distances; on our way back, we went to Evora to do a different route, and we didn't have as many rest stops, so we had to get out of the highway at one point. It was super easy to get back but if you have any riders with bladder issues, plan accordingly.
Consider adding on the gas price for your budgeting since many cars in Europe run on diesel and even gas prices can be high.
Our Portugal and Spain Itinerary so far
We are arriving in Lisbon on a Thursday and at first, I had difficulty deciding on the Airbnb we would stay at. You see, we stayed near Rua Augusta last time at Hotel Lisbon Art Stay and it was the perfect location. But we are now traveling with a family of 5, so we cannot stay at a hotel.
To find better European travel deals, we always compare flights vs. bundle deals. We tend to choose a hotel or place to stay for only a few nights to secure a better rate.
We also rented a car, as we will be doing a road trip from Lisbon to Seville, but we didn't rent the car with the bundle as we were unsure on the date. Instead, we went back to booking.com and rented a car from Sixth, my current favorite car rental company both in Portugal and in Italy.
Europe Family Accommodations Tip
After doing some research on both Expedia and Booking.com, I finally decided on an apartment near the Praca do Commercio, which is further down from where we stayed last time in Lisbon but still close enough to many restaurants and activities. It has 1 king bed, 3 Sofa Beds.
This is when things got interesting. Right before my trip, I saw that this was a one-bedroom apartment with only one bathroom. I also freaked out as it seemed we were missing a bed. I spoke with them and it seemed the lower sofa bed was made for a small child.
We freaked out a bit, but it was too late to get another Airbnb. So we decided to suck it up and get an air mattress if needed.
Luckily, the sofa beds were big enough and super comfy! We loved this apartment and I will be posting a video review on TikTok.
When traveling to Europe with a group of more than four people, always read the description of the listing carefully, read through the reviews and also contact the property to make sure there is a sofa bed if that is what you need. These things are not always so evident in the listing.
4-Day Lisbon Itinerary
I love that this time we will have four full days in Lisbon! This will be our kids' first time, so we wanted wiggle room for flexibility as traveling with kids, even though they are older, is different from traveling as a couple.
Day 1 in Lisbon
On our first day, we will take private transportation to our apartment stay. I typically book these private drivers through the lodging I am staying at. We are not guaranteed we can do an early check-in, but I plan to ask if we can drop off our luggage so then we can eat at one of the delicious bakeries.
I ended up booking our transportation via Viator.com and it was great. Our flight arrived super early, at 5:30 AM and our Airbnb offered a luggage drop-off location nearby.
This is where things also got interesting. Here we are in the dark on the Rua do Sapateiros streets with all of our luggage at 6:30 am, and the door codes were not working. A nice worker let us in but told us the codes had changed the night before.
We couldn't get a hold of our apartment folks as it was too early. I sent messages and left voicemails. We couldn't drag our luggage to the bakery so I was able to find this lounge area and we just waited.
Hopefully, we will be able to check in and shower soon after. Next, I plan to organize our clothes and go out for some groceries. When traveling with teens, it is always a great idea to have extra snacks and the supermarkets are so affordable in Southwest Europe.
Once we are back to the hotel, we will put groceries away and then it's time for some resting without falling asleep. Sleeping when you get there can really mess up your jet lag. We will make an early dinner for our first night and walk around Rua Augusta for a bit.
Day 2 Exploring Lisbon
We will wake up at 8 a.m., get dressed, and go eat a yummy pastel de nata with nice hot coffee. Then we are off to go catch the famous yellow tram in order to visit the following:
Miradouro De Santa Luzia

Castelo São Jorge

Walk around and explore more

Then head over to Bairro Alto

Lunch at Bairro Alto
Then it's back to the hotel to freshen up, and we will go out for drinks at one of the rooftop bars. We also plan to take the Santa Justa Elevator for this one.
Day 3 Visiting Belem & LxFactory
We will wake up at 9 a.m. on this day and once again have a delicious breakfast. We will then head over to the bus stop to catch the bus that goes to Belem. Once we arrive in Belem, we will do sightseeing at the Praca dos Monumentos and, of course, Torre de Belem. We will go up the tower if it is open, as we did not do that last time. Then we are off to enter the Jeronimo Monastery. They say one needs about two hours here.
Before catching the bus to head to the trendy LxFactory location, we will stand in line at Pastéis de Belém to eat the famous Pastel de Belém. This is the location where the famous Portuguese pastry comes from. It is still owned by the same family, and they say the recipe is a huge secret only known to some family members.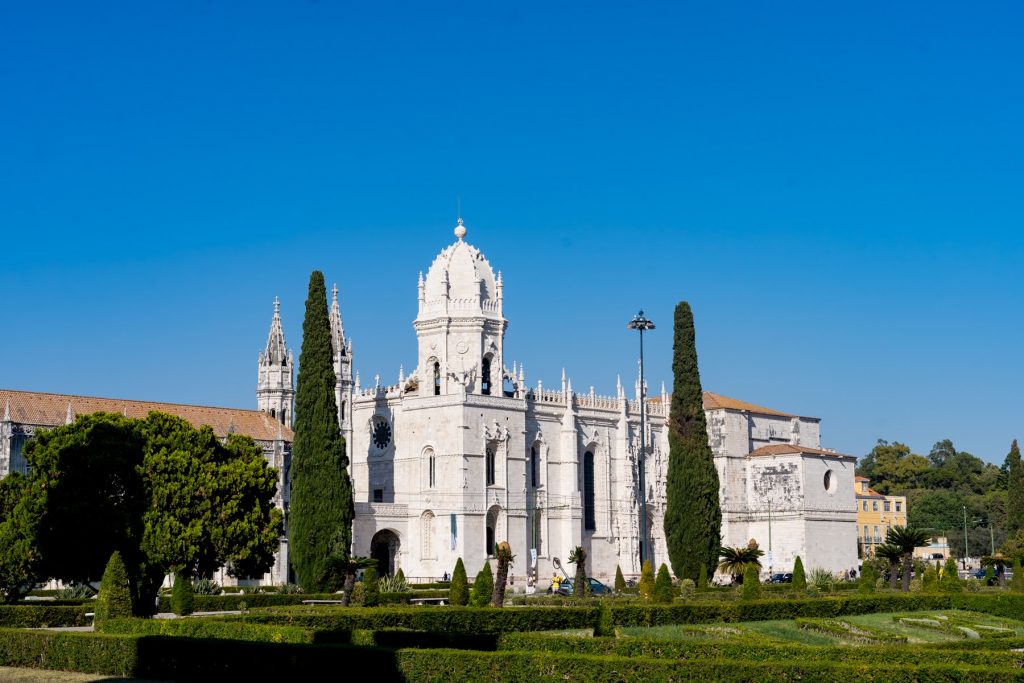 LxFactory location in Lisbon, Portugal
LxFactory is a trendy and vibrant location in Lisbon, Portugal. Located on the waterfront, it is home to a variety of shops, restaurants, bars, galleries, and creative spaces. It is a great spot for exploring, with plenty of activities to keep you entertained. You can also find unique and interesting items from local artisans. It is a great place to get away from the hustle and bustle of the city and explore some of Lisbon's hidden gems.
The LxFactory is a former industrial complex in Lisbon, Portugal, that has been transformed into a trendy hub for creative businesses and cultural events. Located in the Alcântara neighborhood, the LxFactory is home to a variety of businesses, including design studios, galleries, restaurants, and bars. The complex also hosts regular cultural events, such as music concerts, art exhibitions, and book fairs.
The LxFactory is known for its unique blend of old and new, with its historic industrial buildings alongside modern businesses and amenities. The complex is popular with both locals and tourists alike, and has become a must-see destination in Lisbon. Many visitors are drawn to the LxFactory for its vibrant atmosphere, as well as its mix of art, design, and culture.
If you're planning to visit the LxFactory, be sure to check out the schedule of events and exhibitions, as there is always something happening at the complex. You can also explore the various businesses and shops that call the LxFactory home, or simply spend some time relaxing in one of the many outdoor spaces within the complex.
We plan to walk around and take lots of pictures and visit a Brazilian restaurant.Now it's time to go freshen up and relax a bit before heading to dinner at our favorite restaurant, La Licorista.
Day 4 – visiting Sintra
For Day 4, we will head over to the lovely town of Sintra. We will go by train.
Sintra is a town located in the Lisbon region of Portugal, known for its stunning natural beauty and rich history. The town is located in the hills of the Sintra Mountains, which provide a beautiful backdrop to the town's charming streets and buildings. Sintra has a long and storied history, dating back to the Romans, who first settled the area. The town has played a significant role in Portuguese history, serving as a royal residence for many centuries.
One of the main reasons to visit Sintra is to explore its stunning natural beauty. The town is surrounded by lush forests, beautiful gardens, and sweeping views of the surrounding countryside. The Sintra Mountains are a popular destination for hikers, who can enjoy a variety of trails through the hills and forests. Sintra is also home to several stunning palaces and castles, including the Pena National Palace and the Castle of the Moors. These historic landmarks are must-see attractions for any visitor to Sintra.
In addition to its natural beauty and historic landmarks, Sintra is also a great destination for foodies. The town is known for its delicious local cuisine, including pastries and sweets like the famous queijadas de Sintra. Sintra is also home to a variety of restaurants, cafes and bars, making it a great place to relax and enjoy some local culinary delights.
The last time we visited, my husband and I did the Pena Palace, but only on the outside. This time we will do the inside with the kids as well, and really explore the town more.
Quinta Da Regaleira
The kids really wanted to do a ghost tour, and I said heck no, so I found a compromise. We will be visiting Quinta Da Regaleira, which was built by a Brazilian, so the kids are extra excited.
The Quinta da Regaleira is a stunning palace and estate located in Sintra, Portugal. The palace and its grounds are known for their elaborate and ornate design, as well as their rich history.
The Quinta da Regaleira was built in the early 20th century by a wealthy Brazilian businessman, António Augusto Carvalho Monteiro. Monteiro was a collector of art and antiques, and he used these items to decorate the palace and its grounds. The palace features a mix of architectural styles, including Gothic, Renaissance, and Manueline, and is adorned with intricate carvings, frescoes, and other decorative elements.
One of the main attractions of the Quinta da Regaleira is its beautiful gardens and grounds. The gardens are home to various plants, flowers, and trees, as well as several fountains and sculptures. The grounds also feature several underground tunnels and grottos, which add to the palace's mysterious and magical atmosphere.
People visit the Quinta da Regaleira for its stunning beauty and rich history. The palace is also a popular venue for events and weddings, due to its beautiful and unique setting.
Eating in Sintra
We are still researching where to eat in Sintra and plan to shop and explore. Then we head back in the afternoon to unwind a bit. We will shower, rest and then go out for dinner.
Day Trip Alternative to Obidos
Here is a one-day itinerary for Obidos, Portugal, suitable for a family visiting from Lisbon:
11:00 a.m. – We will start by visiting Obidos Castle. This stunning castle, located in the heart of the town, dates back to the 12th century and offers breathtaking views of the surrounding countryside. The castle is home to a museum, where you can learn about the history of the castle and the town of Obidos.
12:30 p.m. – After exploring the castle, I would like to walk through the narrow streets of Obidos's historic center. The town is known for its charming white-washed houses with colorful doors and windows, making it a photographer's paradise. I plan to check out the local bakeries to try some of Obidos's famous pastries, such as the queijadas de Obidos.
1:30 p.m. – Head to one of Obidos's many restaurants for a delicious lunch. The town is known for its seafood, so be sure to try some of the local specialties, such as caldeirada (a fish stew) or bacalhau (dried salt cod).
2:30 p.m. – After lunch, take a walk along the town's ancient walls, which offer stunning views of the surrounding countryside. I am unsure if I will have time to visit the Church of Sao Tiago, which dates back to the 13th century and is a beautiful example of Gothic architecture.
4:00 p.m. – I plan to finish our day visiting one of Obidos's wineries. The town is located in the heart of the Lisboa wine region, so there are plenty of wineries to choose from. This makes me so excited!
Before sharing more about our road trip to Spain, I wanted to share some general road trip tips.
Road Safety in Portugal
Road safety is an important issue in Portugal, as the country has a high rate of traffic fatalities. Portugal has taken steps to improve road safety, such as introducing stricter enforcement of speed limits and drunk driving laws and introducing the use of speed cameras in some areas. Additionally, the government has launched a number of public campaigns to raise awareness about the dangers of speeding and drunk driving. The campaigns have also targeted other risky behaviors such as not wearing a seatbelt, using a cell phone while driving, and not respecting pedestrians. Portugal has increased the number of police officers patrolling the roads, and has made some roads safer by making them one-way or adding speed bumps.
Finally, Portugal is investing in better infrastructure, such as widening roads and improving lighting and signage. All of these efforts have contributed to a decrease in the rate of traffic fatalities in Portugal in recent years.
Since we will not be driving that much inside of smaller cities in Portugal, and since my husband would be driving, we opted for a road trip. I think this will be a fun, memorable family experience.
Road Trip Day to Spain
We will wake up early on this day, as we will need to check out and grab our car. We will probably leave our big luggage at a hotel and pay per day, instead of taking the bulky luggage in the car to Spain. The reason for that is the cars do tend to be smaller—and plus, who wants to carry all the weight? We will pick up the car at the airport, and then we will drive two hours and stop at Albufeira for a yummy lunch.
Then it is back on the road for another 2 hours before getting to Seville. We plan to arrive there by 3 p.m., so it will be check-in time. We will check in, settle in, and then start exploring what is around our neighborhood. I am still looking for dinner options, but we will certainly be hitting up some happy hours.

Here is a tentative itinerary for a 2-Day Sevilla, Spain trip.
Day 1 in Seville
9:00 a.m. – We will visit the famous Cathedral of Sevilla, also known as the Cathedral of Saint Mary of the See. This stunning cathedral is the largest in Spain and the third-largest in the world, and is home to a variety of architectural styles, including Gothic, Mudéjar, and Renaissance. The cathedral is also home to the tomb of Christopher Columbus and the Giralda Tower, which offers breathtaking views of the city.
11:30 a.m. – After exploring the cathedral, we will take a stroll through the winding streets of the Barrio de Santa Cruz, Sevilla's historic Jewish quarter. The neighborhood is known for its charming streets, colorful houses, and vibrant atmosphere. As you explore the streets, be sure to stop at one of the local tapas bars to try some of the region's delicious cuisine.
1:00 p.m. – Head to one of Sevilla's many parks for a picnic lunch. Some popular options include the Parque de María Luisa and the Jardines de Murillo. These parks offer a peaceful respite from the bustling city and are a great place to relax and enjoy the outdoors.
3:00 p.m. – After lunch, visit the Real Alcázar, a stunning royal palace that dates back to the 14th century. The palace is known for its ornate architecture and beautiful gardens, which are a must-see for any visitor to Sevilla.
5:00 p.m. – We finish our day with a visit to the Plaza de España, a stunning square located in the Parque de María Luisa. The square is known for its beautiful tiles, fountains and bridges, which make it a popular spot for photography. You can also visit the nearby Museo de Artes y Costumbres Populares, which features a variety of exhibits on Spanish folk art and traditions.
Day 2 in Seville
9:00 a.m. – We will begin our day with a visit to the Plaza de Toros, Sevilla's famous bullfighting arena. The arena is home to a museum where you can learn about the history and traditions of bullfighting in Spain.
11:00 a.m. – After exploring the Plaza de Toros, we will head over to the historic center of Sevilla. The city is home to a variety of charming streets and squares, such as the Plaza del Salvador and the Calle Sierpes, which are perfect for exploring on foot. As you wander through the streets, be sure to stop at some of the city's many shops and boutiques, which offer a variety of souvenirs and local products.
1:00 p.m. – Head to one of Sevilla's many restaurants for a delicious lunch. The city is known for its seafood, so be sure to try some of the local specialties, such as gambas al ajillo (garlic shrimp) or pulpo a la gallega (octopus).
3:00 p.m. – After lunch, visit the Museum of Fine Arts, which features a collection of art from the 13th to the 19th centuries. The museum is home to a variety of paintings, sculptures, and other works by famous artists, including Velázquez, Murillo, and Goya.
5:00 p.m. – Finish your day with a visit to the Triana neighborhood, known for its vibrant atmosphere and lively street life. The neighborhood is home to a variety of restaurants, bars, and shops, making it a great place to relax and enjoy the evening.

Then we head back for just one evening, and we are still deciding on a coastal town about an hour away from the airport. I can't wait to fill you guys in on our exact itinerary and our findings.
Stay tuned for our remaining schedule for our Lisbon to Seville road trip.